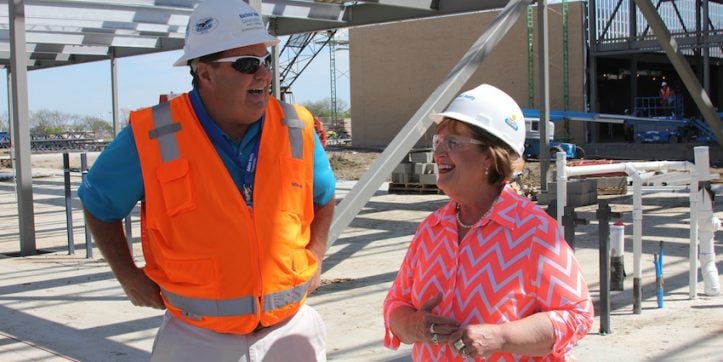 April 6, 2016 - Sandy McNutt visited and toured the construction site of the future elementary school that will bear her name yesterday. She was joined by the school's future principal, Jackeline Orsini, AISD Superintendent Marcelo Cavazos and other AISD staff, and were guided by Balfour Beatty construction supervisors and architects from Corgan.
McNutt's visit may have been her first official one, but she admitted she has visited before and drives by regularly, praying for the school and those who will go there. She has also dropped by with cookies for the construction managers.
McNutt worked as a teacher, assistant principal and principal in the AISD for 29 years. She started as a teacher at Ditto Elementary from 1978 to 1987. McNutt became an assistant principal at Starrett Elementary in 1987, and, in 1990, she was an assistant principal at Moore Elementary when the school opened. McNutt was the principal at Wood Elementary from 1992 to December 2007.
The 112,00 square-foot McNutt Elementary, located next to Workman Junior High, is scheduled to open for the 2016-2017 school year.