AHS Multipurpose Activity Center is now open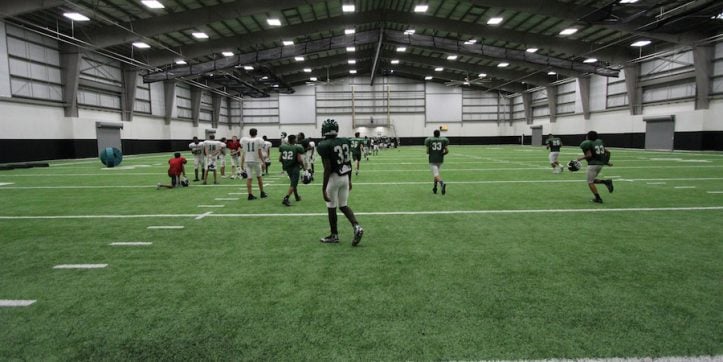 Sept. 20, 2016 - Arlington High School's new Multipurpose Activity Center is officially open. Excited coaches and students took possession of the 77,704 square-foot facility on Friday, Sept. 16, and immediately started putting it to good use.
"We are excited about the MAC," said Arlington Principal Shahveer Dhalla. "It will provide our students with the facilities necessary to compete at the highest level. It also provides space for student groups that had none before, and will open up space around the campus for additional groups as well."
The majority of the building houses a sixty-yard turf field. While the field is obviously excellent for football, it is truly meant to be multipurpose, marked for football, softball, baseball and soccer. Drop-down nets can divide the field into quarters, allowing multiple sports or activities to meet or practice simultaneously. The field area also includes padded perimeter walls and a sound system. Adjacent to the field, at the front of the building, is a 7,500-square-foot weight room, identical locker rooms for boys and girls, a training room, offices for coaches and team rooms.
[Read the MAC fact sheet and see more photos.]
AHS Ahletic Director and Head Football Coach Scott Peach captured the excitement about the new facility when he wrote the following:
"I would like to thank Dr. Cavazos, Mr. Hill, Coach Ozee, and our school board for the vision and follow-through of our new MAC facility at Arlington High School. We moved into the facility on Friday, and I have never seen our student-athletes or coaches as excited as they were in that moment. To afford our student athletes the opportunity for each one of them to have his/her own locker, an amazing weight room and a state-of-the-art indoor turf facility is a dream. Our community is so proud of this moment for the students that are benefiting from this presently as well as the young people who will arrive over the next several years at our school. In addition to our athletic programs, we have also made plans for our band, drill team and cheerleaders to benefit from the indoor facility on a regular basis. We are very grateful for this gift that we have received at Arlington High School."
All traditional AISD high schools are receiving a MAC. Arlington's is the first finished, with the other five projected to open in October.