Corey Academy celebrates 30th anniversary and renovated building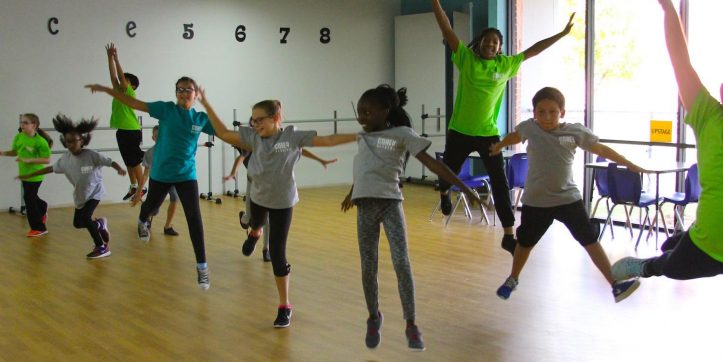 Oct. 17, 2016 - Corey Academy of Fine Arts and Dual Language celebrated its 30th anniversary and newly renovated building with a ceremony and open house Saturday, Oct. 15.
Though Corey is actually 31 years old now, the school delayed its anniversary celebration to coincide with the completion of its transformation into a fine arts/dual language academy. The building – practically unrecognizable to many alumni – underwent a year of major renovations to ensure the facility matches and enhances the school's new fine arts and dual language programming.
The Saturday afternoon event was well-attended and included a ceremony in the cafetorium. The cafetorium's far wall still features the mural of Mr. Corey playing flute, leading a parade of young students. Across the room and on stage, Corey Principal Matt Varnell spoke of Mr. Corey's lasting musical legacy and fine arts impact on the AISD and welcomed Corey's family in attendance.
Superintendent Dr. Marcelo Cavazos – recently named Texas Superintendent of the Year – and AISD Board Member Bowie Hogg also took time to honor Corey's legacy and speak of the exciting future for the school. Then Corey's daughter, Carolyn Corey McNellie, told the audience how much her father would have loved to have been there. She then took out her cell phone and took a picture of the audience.
[Read about Corey Academy's namesake, Dean P. Corey.]
The Corey Cub Chorus helped start the event with a hit from 1985, the year Corey opened. It didn't take long for many in the crowd to join in with the familiar words from "We are the World." The Chorus returned to the stage at the end of the program – joined by alumni members of the Chorus – and led everyone in singing the school's alma mater.
Following the program, cake and lemonade were served and the building was open for tours. Many old friends caught up as they perused the history displays, which included old year books, photos and memorabilia. Tours of the building highlighted the newly renovated areas, including the piano lab, dance studio, black box theater, art rooms, STEM labs, extended learning areas and more.
Corey's transformation into a fine arts/dual language academy was made possible by funding from the 2014 Bond program. [Learn more about the AISD's new fine arts/dual language academies.]
"We have a superintendent, school board and staff that are moving our school district to new heights," said Arlington Mayor Jeff Williams, whose three children attended Corey.