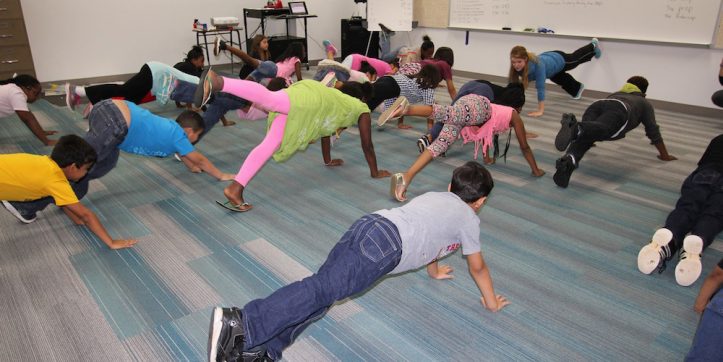 If you had to describe Jones Academy of Fine Arts and Dual Language in only two words – actually an impossible task – they might be integration and cooperation.
In only its second year, Jones, one of two AISD fine arts/dual language academies, is charting a new educational model that integrates English and Spanish, fine arts and core curriculum, and fosters continual cooperation among both students and teachers.
"The exciting energy that we have permeates throughout the building, from dual language classrooms to regular classrooms to dance and piano labs," said Jones Principal Katiusaka Herrador.
All teachers at Jones receive training in the integration of fine arts into the core curriculum.
"We bring learning to life by using visual arts, music and dance," Herrador explained. "Students are making more meaningful connections."
For example, second graders recently wrote songs about shapes and performed them for kindergarteners. Fourth graders developed an art gallery based on arrays from math, sixth graders learned the link between fractions and musical notes, and kindergarteners worked on reading comprehension with art projects based on books by Eric Carle. Every subject is infused and integrated with others.
Many lessons and activities – like art projects, choreography and performances – require students to work together, consistently teaching collaboration, cooperation and problem-solving skills.
"Our students are stronger because they work together," Herrador said.
The teachers are stronger because of collaboration, too. Teachers intentionally plan together and develop ways to integrate their different disciplines.
The culture of cooperation and excitement has "opened up our teachers," Herrador said. "They feel free to take risks."
Their creativity has been unleashed, sparking many new, innovative ideas and lesson plans.
"This school is not just a building with special classes," Herrador emphasized.
It's an entirely new culture based on integration and cooperation. And the result is an engaged, blossoming student body and teaching staff.
It is a special building though. Funded by the 2014 Bond program, the building is receiving extensive renovations to enhance the fine arts and dual language programming. The renovations are providing state-of-the-art fine arts spaces like strings rooms, piano practice rooms, drama space and a dance studio.
Being done in phases to disrupt school as little as possible, all the work should be complete by the early spring of this school year.
[
See photos of the renovations at Jones
.]