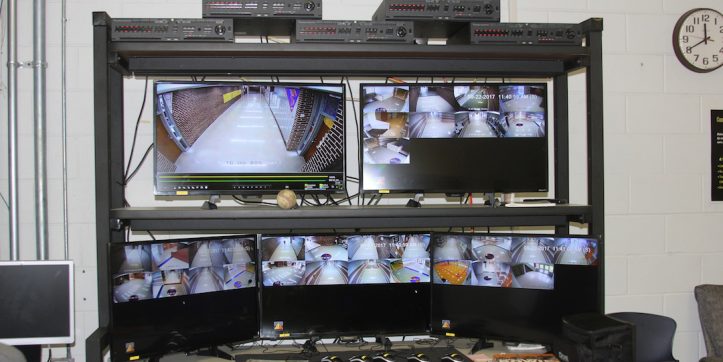 To date, the AISD security department has installed new security cameras and network video recorders (NVRs) at 55 campuses with funds from the 2014 Bond program. By the end of the five-year bond program, all campuses will receive new cameras.
The new cameras will allow the AISD security department to increase video surveillance from 35 to 80 percent of all AISD buildings. The increase in coverage includes entry-exit points, stairwells, cafeterias, gyms, libraries, hallways, loading docks and playgrounds.
"It's very difficult for someone to gain access to one of our upgraded facilities and for us to not be able to locate that individual on our security cameras," said James Smith Jr., AISD security manager. "With our upgrades, we can now see locations we couldn't see in past years."
More than 1,800 new cameras and more than 100 new NVRs have been installed so far. These new digital cameras are replacing old analog cameras and provide a better, clearer picture. The digital video taken by the new cameras is saved to a network video recorder (each elementary will have two NVRs, each junior high will have four and each high school will have five), which offers significantly more storage than the old analog recorders. If a principal or assistant principal needs some surveillance video saved, he or she can simply submit a request online and the security department will archive that video indefinitely.
"We have experienced great success in identifying suspects on various issues with the upgraded camera systems," Smith said. "Our dispatchers are able to monitor any camera 24/7/365, plus campus staff can monitor them throughout the day. The upgrades help reduce the number of burglary offenses within our district because we're able to quickly direct law enforcement to the suspects in or around our buildings to make an arrest. The camera upgrades have been a true asset to the taxpayers and school district."
The 55 completed campuses represent all but five of the planned locations for the first three phases of the bond program. The locations for phase four are currently being planned in conjunction with the network services department.
Installation of the cameras is done after the AISD's network services department first wires each school. To be efficient and only take down the ceiling once, network services runs the wire for the cameras while also running wire for network upgrades, upgrading switches and installing additional wireless drops – improvements all also funded by the 2014 Bond package. Once the wiring is in place, the security department installs the cameras.