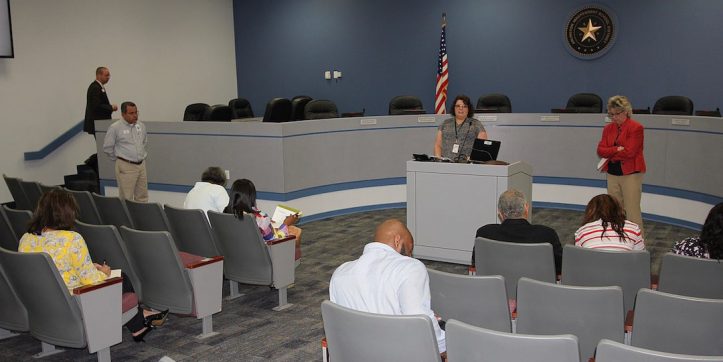 April 19, 2018 - The AISD hosted a pre-bid informational meeting yesterday for a Request For Proposals (RFP) for consulting services related to HUB (Historically Underutilized Businesses) and MWBE (Minority and Women-owned Business Enterprises) consulting services.
AISD Director of Purchasing Tammy Craig and AISD Chief Financial Officer Cindy Powell led the meeting and explained the details of the RFP and how to submit a proposal.
See the RFP (18-69).  Addendum 1 (includes the meeting's PowerPoint presentation.)
Through the RFP, the AISD is seeking qualified professional consultant services to assist the district in researching allowable HUB and MWBE programs; and if appropriate, developing a draft policy and implementing a program that encourages HUB participation in construction contracts.
Proposals are due May 3, 2018 by 2 p.m. See the RFP for proposal instructions. Questions should be emailed to Tammy Craig (tcraig1@aisd.net). April 20 is the last day for questions.
At the outset of the AISD's 2014 Bond program, the AISD's Board of Trustees expressed a desire to encourage HUB participation in bond-funded construction projects. As a result, the AISD began encouraging and tracking HUB participation. Now in year four of the five-year bond program, the Board of Trustees wants to determine what the next step is. The consultant's purpose would be to determine what that next step is, if the next step includes a formal policy, what that formal policy would be, and how it would be implemented.