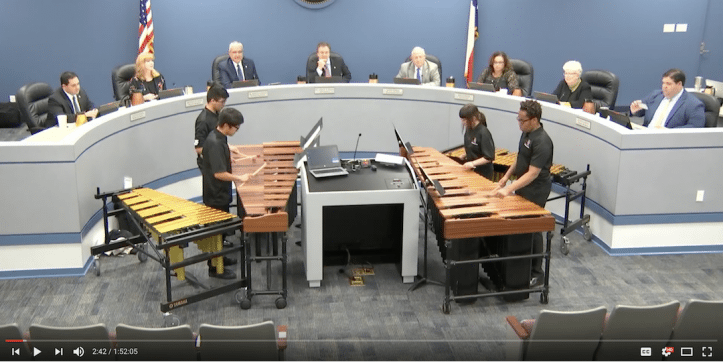 May 1, 2018 - Thanks to bond-funded upgrades, broadcasts of AISD board meetings and AISD-TV News now stream in high definition. Previously shot in standard definition with an image resolution of 720 x 486 pixels, these programs now have a significantly higher picture quality at 1920 x 1080 pixels.
The primary upgrade in equipment needed to take the News broadcasts to HD was a new HD camera. But taking the board meeting broadcasts to HD was a much larger endeavor.
"We had to gut everything," Robert Spence, AISD media production technician, said about the board room. "We stripped everything out and started from scratch."
All the equipment was replaced, including cameras, speakers, monitors (which dated to the 1980s and 90s), an amplifier from the 1970s and the mixing console. The voting boards from the 1970s were also replaced with a digital system, plus two 90-inch flat screens replaced the old projectors and a 65-inch LED screen replaced the 50-inch plasma screen in the back of the room. In addition to the new technology, the board room also received new carpet and paint.
"Before, everything ran on coax cable," Spence said. "Now, everything is digital and networked."
The advantages of the upgrades go beyond a higher-quality picture. The wider imager allows more to fit in the frame. The old cameras couldn't quite capture all the board members in the picture. The faces of the two members on either end would be cut off. But now all the members fit on the screen, along with everyone else sitting at the front during the meeting. The wider image is also beneficial when student groups perform at a meeting. Now a single straight shot can show the entire group.
The board room also now includes four mounted PTZ (pan, tilt, zoom) cameras, instead of just three. The additional camera affords better camera angles and allows for straight-on shots of everyone in the meeting, something that wasn't possible before.
Moving to HD brings the AISD up to the industry standard. All local TV news outlets broadcast in HD, so now the district can easily share meeting highlights with them. In fact, the local news can and has pulled portions of the meeting broadcasts straight off the live online feed. The board room also has a new audio press box which allows news reporters to plug in and get the original audio feed, eliminating the need to place their own microphones near the speakers.
All AISD TV-News and board meeting broadcasts are available on YouTube. Visit AISD TV's webpage for links.