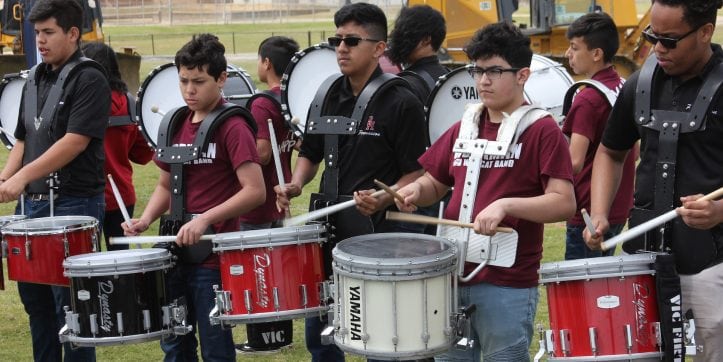 May 2018 - Local music vendors are about to get a lot of a business from the Arlington ISD.
The AISD Board of Trustees recently approved the district's fine arts list of purchases for year four of the 2014 Bond program.
Much of that list will be bought from local vendors.
"I'm very glad to see us using local vendors on many of the orchestra and band instruments that we're approving bids for tonight," AISD Board Member Polly Walton said at the April 19 Board meeting.
The bond-funded purchases include hundreds of items totaling $1.3 million. The majority are instruments – everything from digital pianos and violins to basses and cellos to flutes and percussion. Other purchases include band, choir and orchestra uniforms, musical equipment, and, for the first time in the current bond program, lighting and sound equipment for AISD theater programs.
Replacing old instruments and adding inventory with quality pieces is the major goal of this bond program for fine arts and continues the progress started with the 2009 bond.
"Some of our programs are growing really fast, even faster than anticipated," Michael Stringer, AISD coordinator of fine arts, said.
[
Read about Sam Houston's band growth
.]
While all the new instruments and equipment cannot be purchased locally, much will be. In fact, the majority of new junior high and high school string instruments will be purchased locally and will even get built in Arlington.
"It helps to be here in Arlington because we have so many vendors around us," Stringer said. "With two major symphonies nearby, the University of Texas at Arlington and the AISD's own renowned music program, Arlington is home to many good music vendors.
"We're lucky that our local vendors understand Arlington and keep their prices low enough that they win the bid."
Stringer also noted that several of the vendors are in business primarily to serve Arlington students and often work directly with AISD teachers to help them find the perfect instruments for their students. They also often work for the AISD to repair and maintain the district's instruments.
While some of the purchases are not going directly to Arlington businesses, some are going to vendors nearby. All the electronic equipment and digital pianos will be ordered from Romeo Music in Fort Worth. And Music and Arts, an important partner of the AISD, is a national company that has a significant Arlington presence.
Deciding what to buy is a long process based entirely on requests from teachers.
"We build a catalog of all the items they could possibly want or need," Stringer said.
Teachers at each campus consider their needs, prioritize them and then use an online form to submit their requests. The fine arts department reviews all the campus requests and then submits a comprehensive batch of requests to the purchasing department to seek bids from potential vendors. The best bids are then sent to the AISD Board of Trustees for approval. Once approval is granted, the items are ordered.
Most of the new instruments and equipment will arrive early in the fall. Some instruments are handmade though and require more time. Those will arrive a little later in the school year as they are completed.