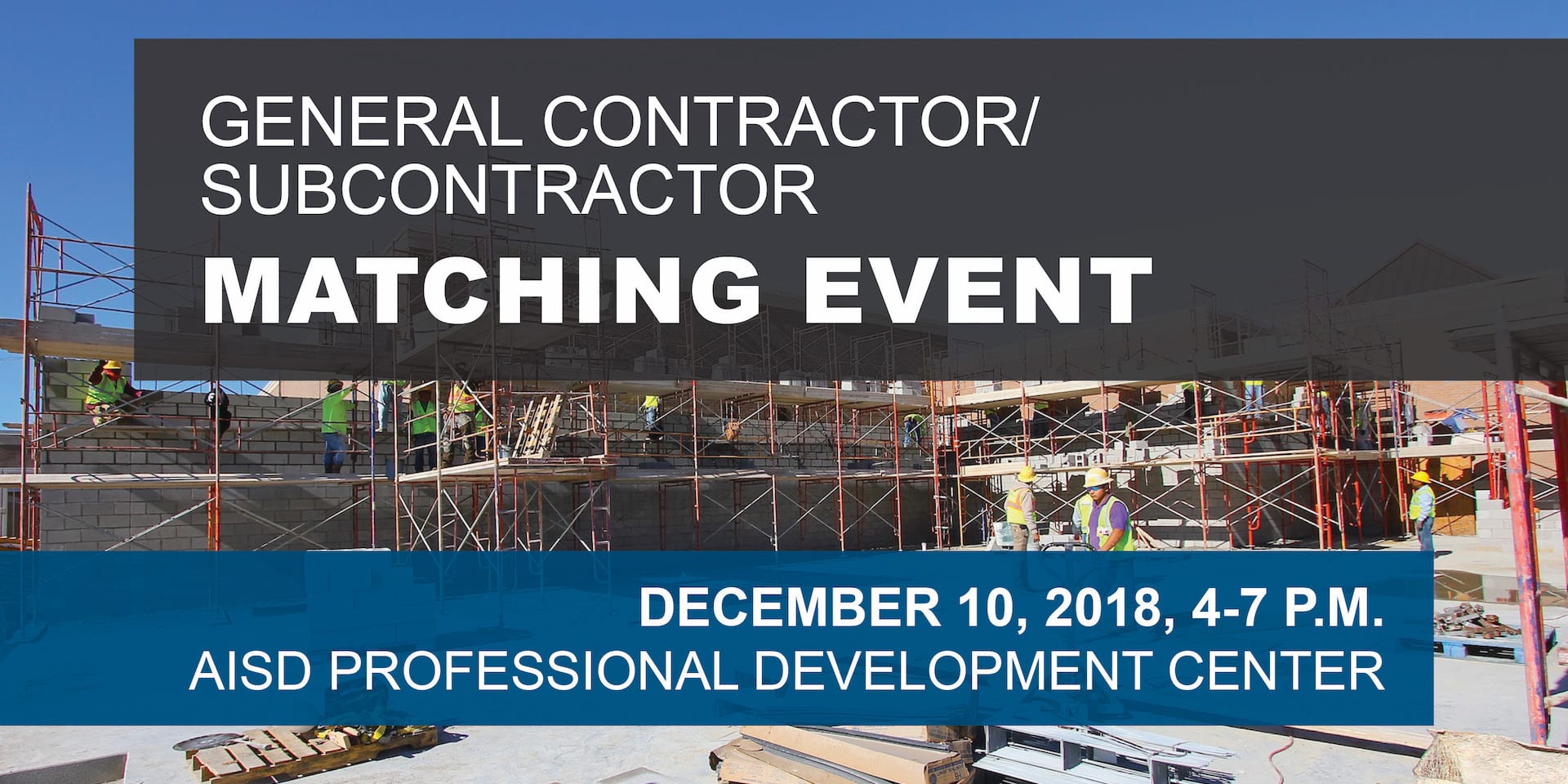 This speed-meeting event will give subcontractors the chance to sit down with major general contracting firms to present their capabilities and discuss partnering opportunities.
DATE: Dec. 10, 2018     TIME: 4-7 p.m.
LOCATION: AISD Professional Development Center (1111 W. Arbrook Blvd. Arlington, TX 76015)
GENERAL CONTRACTORS:  Sign up for a free table for up to 3 company representatives. Subcontractors will visit with you in 10-minute intervals to present their firm's capabilities, capacity and experience.  RSVP BY NOV. 28.
SUBCONTRACTORS:  Admission is free. Please come prepared with your Capabilities Statement, one-page leave behind, or other marketing materials. Be ready to spend about 10-minutes introducing your firm to attending GCs. Sessions will be timed, so gear up for this fast-paced event.
BOND 2014 PROGRAM
Bidding is currently underway for projects of the fifth and final phase of AISD's current bond program.The fifth phase includes lifecycle and deficiency upgrades at 13 school campuses and seven administration/support facilities. These upgrades will include:
Mechanical, electrical and plumbing upgrades
Safety, security and technology upgrades
Scheduled roof replacements/repairs
Landscape improvements
Parking lot improvements and expansions
Flooring and ceiling improvements
Accessibility improvements
And much more!!!
HUBs
For more information about HUB participation contact:
Karen Callier
ACARI/AISD HUB Project Manager & Outreach Coordinator
karen@acarimg.com
817-617-7781