Architects update AISD on interior plans for fine arts/dual language academies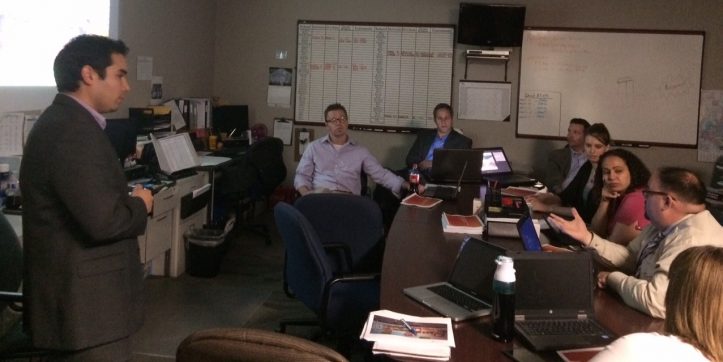 May 26, 2015 - Architects from Stantec met with AISD staff last week to give an update on plans for the interior of Corey and Jones Fine Arts and Dual Language Academies.
Stantec is designing the renovations required to transform what are currently Corey and Roquemore Elementary Schools into fine arts/dual language academies. The new academies will provide students an innovative program that develops fluency in both English and Spanish and will offer exposure to Mandarin. Students will also receive in-depth instruction in fine arts, including general music, visual art, dance, drama and piano. (See overview about the academies.) The renovations are funded by the 2014 Bond package.
"When you walk in, you see that this is a different school," said Stantec architect Diego Barrera as he described the vision. "You understand what the layout is and you sense that it is a language arts, fine arts school." The design includes state-of-the-art fine arts spaces like strings rooms, piano practice rooms, drama space and dance studios. And adjustments will be made to ensure there are enough classrooms and extended learning areas so each class can spend half the day in an English environment and half the day in a Spanish environment.
Much of the discussion in the meeting focused on the libraries. Julie Moore, AISD library media services coordinator, expressed excitement about the new, open concept for the libraries, but wanted to ensure there is adequate space for a "rich print" collection. The number of books currently in the libraries will grow as additional Spanish volumes are added. The libraries will also be used for instruction, so they will need white boards and sufficient space to host classes.
Corey is large enough that making enough space for the library is not very difficult. However, Jones (formerly Roquemore) has a smaller building. So the architects, Moore and the academies' future principals, Katiuska Herrador and Matt Varnell, proposed creative ideas to ensure plenty of shelf space for books in the Jones library, along with adequate instructional space. Stantec will continue to work on the library layout.
Stantec also shared initial thoughts on furniture, colors and creative ways to display student art throughout the building. The focus is on creating a visually stimulating environment that enhances the fine arts and dual language programming.
The academies will both open in August 2015, but renovations will start in October 2015 and continue until the summer of 2016.
Read more: Students accepted for fine arts/dual language academies.