Construction of Career and Technical Center starts with groundbreaking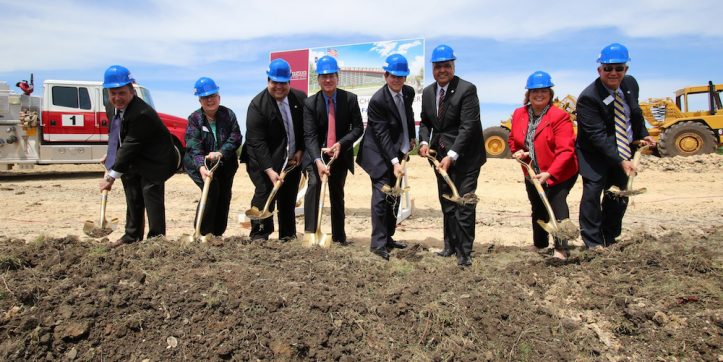 April 8, 2016 - The AISD broke ground and kicked off the construction phase of the new Career and Technical Center Thursday afternoon. The districtwide facility is part of the district's $663.1 million bond program approved by voters in 2014.
The CTC will serve students from all district high schools, offering state-of-the-art courses in a wide variety of career and technical fields. It will allow the district to offer new programs and opportunities for students and to serve a greater number of students in CTE classes.
"The young people depend on us," AISD Superintendent Marcelo Cavazos told the crowd that gathered to celebrate the momentous day. "The bond project is about helping students be successful," about helping students "make dreams a reality."
Cavazos explained that the location of the future CTC is the geographical center point of Arlington's student population distribution throughout the city. And this new building is about giving those students the tools to be successful in whatever endeavors they pursue. As they succeed, they will help the city of Arlington succeed.
Arlington Mayor Jeff Williams' enthusiasm for the new facility and the opportunities it will provide was palpable.
"Are we not excited?" he asked. "I'm amped! I'm stoked!"
Williams hailed the partnership between the city of Arlington and the Arlington ISD and the importance of working together.
"We need to leverage everything we can to make our kids successful," he said.
The CTC is being built by Balfor Beatty Construction, following plans designed by VLK Architects. It is scheduled to open in the fall of 2017. (Learn more about the CTC.)