Dedication ceremony celebrates Jones Academy namesakes and renovated building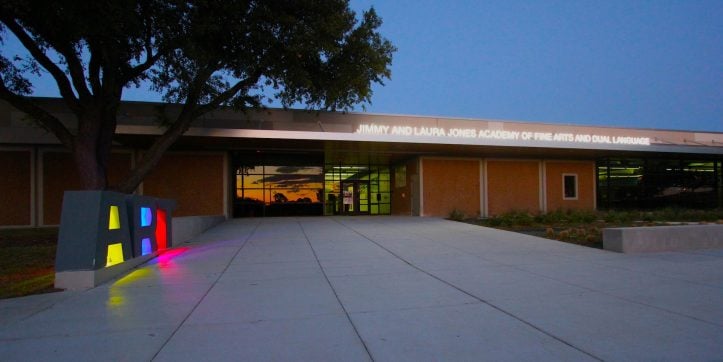 Jimmy and Laura Jones Academy of Fine Arts and Dual Language celebrated its newly renovated building with a dedication ceremony Saturday, May 27.
"It's a great day to be an All-Star!" said Jones Principal Katiuska Herrador to the several hundred people gathered to honor the school's namesakes and to see the renovated building. (Jones Academy's mascot is an All-Star.)
The academy opened last school year in what had been Roquemore Elementary. It was renamed after Jimmy and Laura Jones, both former principals in the AISD, and converted into a fine arts and dual language school. The building received extensive renovations – paid for the by the 2014 Bond program – to enhance the fine arts and dual language programming. They provided state-of-the-art spaces like strings rooms, piano practice rooms, drama space, extended learning areas, art studios, STEM labs and a dance studio. And outside, the school received a brand new outdoor performance area – an amphitheater funded through a partnership with Texas Trust Credit Union.
Construction started last summer, was phased throughout the school year, and was completed this spring.
"All of this greatness is happening at a public school in a large urban district," Laura Jones said during the dedication ceremony.
Laura and Jimmy Jones both expressed their gratitude to their mentors and colleagues, including many who attended the ceremony to honor the couple.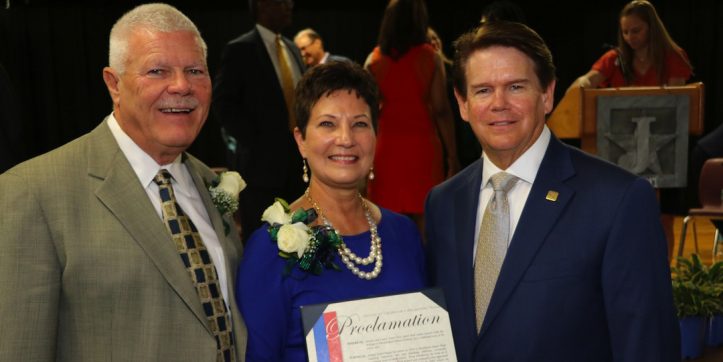 "You are here today because you stood shoulder to shoulder with many wonderful colleagues," Laura said, quoting what her parents would have told her if they could have been there.
Following the ceremony, the school was open for tours and cake was served in the gym. Outside, students performed at the outdoor performance area while the PTA served hot dogs.
It truly was a great day to be an All-Star.
See photos of the dedication, the renovations and the outdoor performance area.
Read more about Jones Academy of Fine Arts and Dual Language.