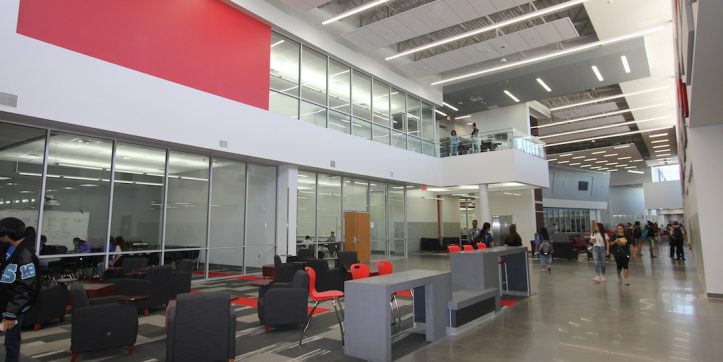 Sept. 6, 2017 - As of Tuesday, the AISD Dan Dipert Career and Technical Center is open for all of its planned classes.
Part of the building opened the first week of school for about half of its scheduled students. The other half temporarily attended classes at the AISD Professional Development Center as construction on other parts of the CTC were finished. But now enough of the new building is complete for all students to attend classes at the new facility.
The new CTC is a flurry of activity this week as students find their new classrooms, teachers give students tours of the facility and CTC Assistant Principal Tommy Moore gives orientation to large groups of students.
While most of the building is now open, several classrooms - walled off from students - remain under construction. These classrooms, along with the learning stairs, will open later this fall. Other finishing touches and punch-list items throughout the building will be completed in the evenings and early mornings.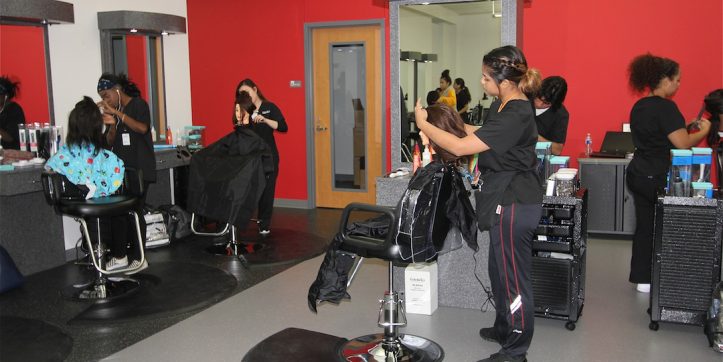 The 169,800 square-foot CTC - a major project of the 2014 Bond program - offers juniors and seniors from all AISD high schools 27 programs of study, including 17 that are new to the district. More than 4,700 students will attend classes at the CTC and the future Agricultural Science Center each week. Construction of the new Ag Center is scheduled to conclude in October.
See photos from the open CTC and see construction photos.