Citizens Bond Oversight Committee reviews program progress
Committee tours renovations at Arlington High School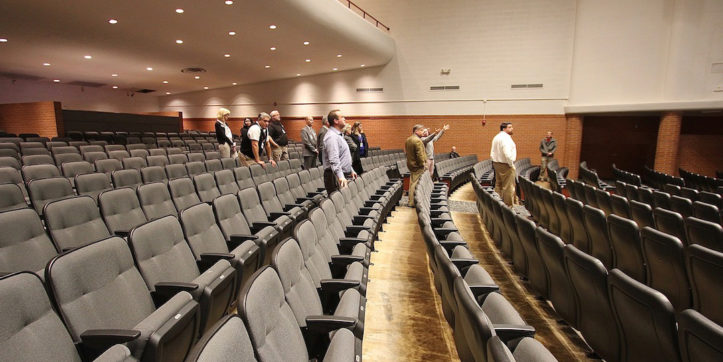 January 31, 2020 - The Citizens Bond Oversight Committee met this week at Arlington High School for its quarterly review of the status and progress of the 2014 Bond program. AISD Chief Financial Officer Cindy Powell led AISD administrators in giving updates on the various areas of the bond: fine arts; safety, security and technology; transportation; and facilities.
View the meeting materials for more details.
The meeting started with a tour of some of the bond-funded renovations at Arlington High School. The $10.5 million in renovations at AHS impacted many areas of the school. A few of the highlights included a new glass curtain wall at the front entrance and new windows along the north side of the building, an old weight room converted into a dance studio, major mechanical replacements, roof replacements, parking lot replacements, new ceilings, locker room renovations with new lockers, major auditorium upgrades, and much more.
Learn more about bond projects at AHS and see photos.
As the 2014 Bond program comes to a close, the role of the CBOC is nearing its end as well. But a new CBOC will be instituted by the AISD Board of Trustees soon to oversee the 2019 Bond.