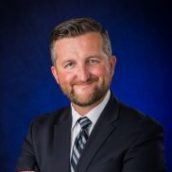 Alan Lang
Director of Bands
dlang@aisd.net
Alan Lang is currently teaching his sixteenth year at Lamar High School. He became a Lamar fine arts staff member in the fall of 2005 after teaching at Lindsay High School in Oklahoma for four years. Mr. Lang is a graduate of the University of Oklahoma, with a bachelor's degree in instrumental music education. During his college years, he was a member of the 1998 Phantom Regiment Drum & Bugle Corps where he studied with professional trumpeter Peter Bond of the NYC Metropolitan Opera Orchestra. Alan also performed in the jazz band, symphonic bands, marching band, and choir while attending OU. Mr. Alan Lang has worked as a Drum Corps International instructor (Pioneer 2003-2006, Revolution 2008-2011) as visual caption head.
In the fall of 2012, Mr. Lang took over as director of bands at Lamar. He is currently the director of the Wind Symphony, The Pride of Lamar Marching Band, Freshman Band, and associate director of the full orchestra. During his tenure at Lamar he has taught International Baccalaureate Music (IB), symphonic band, and concert band. Under Mr. Lang's direction, the marching band has earned consistent division 1 ratings and advanced to the UIL Area Marching Contest three times. From 2012-2014 Mr. Lang was the TMEA Region 5 Band Chair and organized the All-Region auditions, clinics and concerts. Under Mr. Lang's direction, the jazz band has participated and/or competed in the Essentially Ellington jazz program during the 2005-2015 school years. As a director at Lamar, Mr. Lang has taken the band on trips, including, Crested Butte, Memphis, Orlando, Corpus Christi, Winter Park, South Padre, San Antonio, New York City, and Nashville.
Mr. Lang lives in Oak Cliff with his wife Shaneen and their three cats, Sebastian, Leeloo, and Banksy.
Class Schedule:
Period 1: 7:35 – Wind Symphony
Period 2: 9:18 – Freshman Band
Period 3: 11:06 – Symphonic Band
Period 4: Conference Period
Period 7: 7:35 – Marching Band
Period 8: 9:18 – Co-Teach at Shackelford
Period 9: 11:06 – Co-Teach at Nichols
Period 10: PLC or Conference Period
Facebook: Lamar Viking Band
Instagram: @Lamarband
Twitter: @VikingBand (general band) | @AlanLangLHS (Mr. Lang)
Booster Club, lamarbandboosterclub@gmail.com
Band room phone: (682) 867-7006