ACADEMICS
State Accountability
Overall School Rating for Peach Elementary:
TEA School Report Card:
House Bill 3:
PROGRAMS
Gifted and Talented
Pre-Kindergarten (PreK 4)
History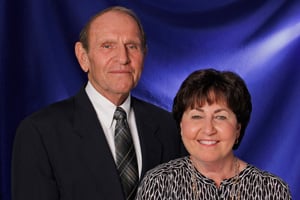 Eddy and Debbie Peach have been fixtures in AISD their entire careers, which total 81 years. They will be remembered through the school bearing their name, Peach Elementary.
Eddy worked in the AISD for 45 years. He became the first head football coach at Lamar and led his football teams with only four losing seasons. He was the first and only Texas high school coach to win 300 games at the top classification in Texas. He received the 1993 Denius UIL Sponsor Excellence Award and was elected to coach the 1996 McDonald's All-Star Football Game. In 2010, he became the state's seventh-winningest high school football coach with a record of 316-126-7 and received the FW Football Officials Honorary Lifetime Membership Award. He just recently was honored with the NFF Gridiron Club of Dallas Legends Award and will be inducted into the 2017 Texas High School Football Hall of Fame.
Debbie taught 36 years at three levels for AISD. She was selected Teacher of the Year at Roquemore, Shackelford, and Lamar and received the 2001 Kiwanis Secondary Teacher of the Year. The first 10 years she taught health and physical education/coach. She directed all-school productions, coached basketball/track, and sponsored cheerleaders. For 26 years, she taught English I/Pre-AP. She served as department chair, level leader, class sponsor, and social chairman. She served on district and campus committees and has been an instructor at district-wide and campus inservice workshops.
Eddy and Debbie's son Scott is the head football coach and athletic coordinator at AHS, and his wife Kim is the assistant director of girls' athletics. Their grandchildren, Cooper and Campbell, attend Duff Elementary. Their son Shawn is the athletic director/head football coach at Moody ISD, and his wife Brianne teaches science at Hewitt Midway Junior High.