ACADEMICS
Overall School Rating:
Not Rated (Declared State of Disaster Due to COVID-19)
TEA School Report Card:
House Bill 3:
PROGRAMS
Gifted and Talented
Pre-Kindergarten (PreK 4, PreK 4 Bilingual, PreK 3, PreK 3 Bilingual)
MISSION
Our mission is to communicate clearly and effectively with all stakeholders in a respectful and professional manner.
Our mission is to collaborate purposefully and consistently with all stakeholders to support our students' success.
Our mission is to commit to educating our students to be college and career ready by developing positive, growth mindsets and providing continuous, improved customer service while valuing our diverse community.
VISION
Our vision is to build a "NEW" Ellis Elementary: one where communication, collaboration, and commitment are the epitome of our success.
History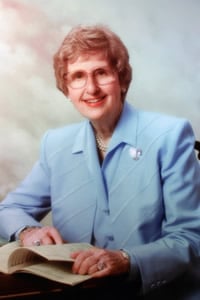 Jane Robin Ellis Elementary School is proud to bear the name of one of Arlington's finest educators. Jane Ellis retired in 1982 after serving forty-one years in Arlington schools. Twenty-five of those years were spent teaching music, and the remaining sixteen years were spent as Dean of Girls and Assistant Principal at Bowie High School.
Although Miss Ellis is retired from education, she continues to be involved in many community events including musical productions. She is also a familiar face at our school, attending many functions and composing our school song entitled "The Spirit of Ellis." At the Ellis Ten Year Anniversary Celebration, Miss Ellis commented, "This school is not the fine school it is because of a name across its open door. Rather, it is a fine school because that from the time the first footsteps entered that 'open door', excellence in everything that relates to children was the keyword and the attainment of excellence became the reason for being and doing!"
Ellis Elementary School opened its doors for the first time in August 1989. Construction began in the Fall of 1992 to add additional classroom space and again in the Spring of 2000 to add additional classrooms for full-day kindergarten.
Along with expanded classroom space, we also have a full-time counselor, speech pathologist, and a computer lab technician. In addition, an ESL lab has been set up with a specialist serving Ellis. We are a Boys Town school and teach social skills according to the Boys Town Curriculum. Our focus is on children, and our goal is excellence in education. Ellis Elementary continually evaluates, evolves, and elevates the learning environment which provides encouragement for all of our students to set and reach their immediate and future goals.