Lynn Hale Elementary is committed to providing the best service to our students, parents and community partners. No matter how hard we try, a time may come when something in our school doesn't work for you, a time when you question why a certain action was taken or not taken. The following procedure will help resolve your issues:
Step 1:
• Bring your concern to the person closest to the problem. For example, if you have a question about something that happened in your child's classroom, start with the teacher.
Step 2:
• The next level will be to discuss your concern with the person who supervises the individual or department in question. In most cases, this is the principal (additional resources: assistant principal/ counselor). If you have additional concerns, we want to help you, and we ask that you work with us to resolve issues.
Please follow traffic flow instructions from our staff:
ARRIVAL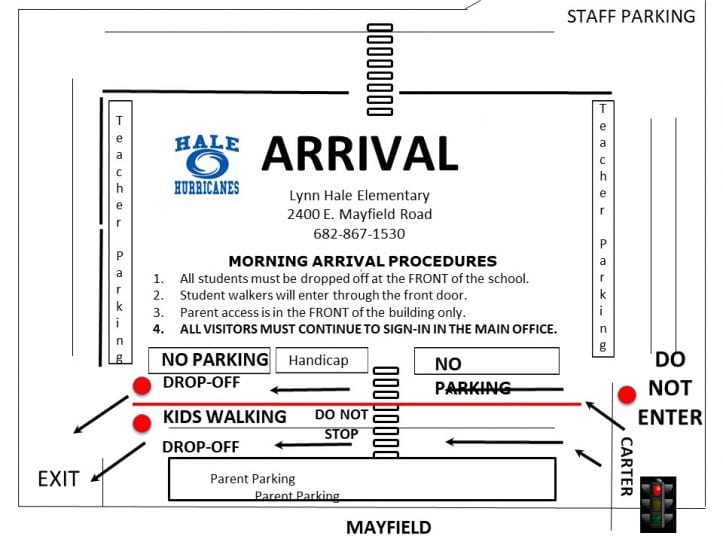 Students are to be dropped off in the back of the building.
Drop off times are 7:30 - 8:10 AM
There are TWO lanes of traffic flow.
Center lane is a pedestrian lane. Students and staff will occupy this lane.
Please use CAUTION when driving on campus.
DISMISSAL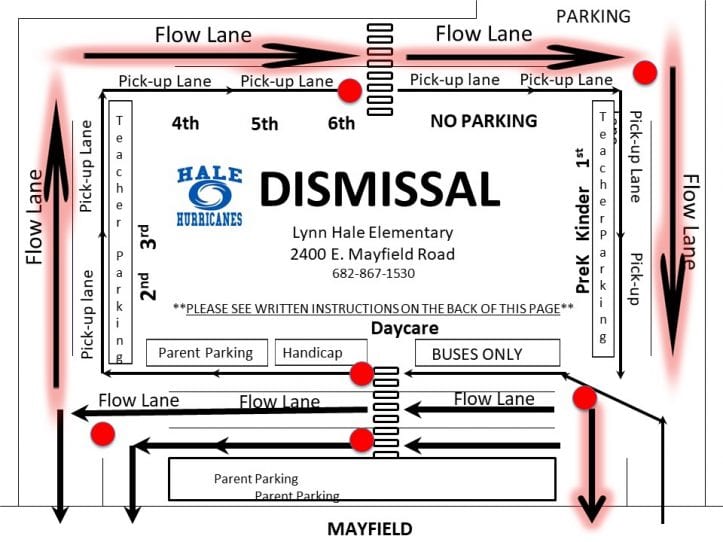 Dismissal is at 3:35 PM
There are TWO lanes of traffic flow.
Inside lane is for pick up ONLY
Please ALWAYS display your CAR TAG with student and teacher name.
Please do NOT leave your vehicle from any traffic lane. We will bring your kids to you.
Please use CAUTION when driving on campus.
Parking
Attention Parents:
By Order of the Fire Marshall of Arlington, TX
No parking in any Fire Lane at any time. This includes AM arrival and PM dismissal times.
We appreciate your help with this matter.
In accordance with Texas Education Code 37.105 UNAUTHORIZED PERSONS: REFUSAL OF ENTRY, EJECTION, IDENTIFICATION -
(a)  A school administrator, school resource officer, or school district peace officer of a school district may refuse to allow a person to enter on or may eject a person from property under the district's control if the person refuses to leave peaceably on request and:
(1)  The person poses a substantial risk of harm to any person; or
(2)  The person behaves in a manner that is inappropriate for a school setting and:
      (A)  The administrator, resource officer, or peace officer issues a verbal warning to the person that the person's behavior is inappropriate and may result in the person's refusal of entry or ejection; and
      (B)  The person persists in that behavior.
(b)  Identification may be required of any person on the property.
(c)  Each school district shall maintain a record of each verbal warning issued under Subsection (a) (2) (A), including the name of the person to whom the warning was issued and the date of issuance.
(d)  At the time a person is refused entry to or ejected from a school district's property under this section, the district shall provide to the person written information explaining the appeal process established under Subsection (h).
(e)  If a parent or guardian of a child enrolled in a school district is refused entry to the district's property under this section, the district shall accommodate the parent or guardian to ensure that the parent or guardian may participate in the child's admission, review, and dismissal committee or in the child's team established under Section 504, Rehabilitation Act of 1973 (29 U.S.C. Section 794), in accordance with federal law.
(f)  The term of a person's refusal of entry to or ejection from a school district's property under this section may not exceed two years.
(g)  A school district shall post on the district's internet website and each campus shall post on any internet website of the campus a notice regarding the provisions of this section, including the appeal process established under Subsection (h).
(h)  The commissioner shall adopt rules to implement this section, including rules establishing a process for a person to appeal to the board of trustees of the school district the decision under Subsection (a) to refuse the person's entry to or eject the person from the district's property.
A person ejected from or refused entry to District property under this provision may appeal this action by filing an appeal under FNG(LOCAL) or GF(LOCAL) and shall be permitted to address the Board in person within 90 days of the commencement of the appeal if the grievance is not resolved at a previous level before the board considers the appeal.
The board's decision to grant or deny an appeal under this section is final and may only be further appealed under the applicable provisions of Texas Education Code 7.057.