Academics
State Accountability
Overall School Rating for Shackelford Junior High:
Distinction Designations:
Academic Achievement in English Language Arts/Reading
TEA School Report Card:
Mission & Vision
Shackelford is committed to a culture of continuous improvement, a safe and supportive environment, and providing engaging and relevant learning for students and staff.
We will:
Focus on growth
Support each other
Lead by example
Build positive relationships
Celebrate success
History
O.D Shackelford Junior High is named after Mr. Odell Dalton Shackelford (1916-1994). Mr. Shackelford was named Odell after a well-known judge in Ellis County and Dalton after his mother. He and his wife, Evelyn, and their two sons, Larry and Wally, lived in Arlington and later moved to Fort Worth.
In the mid-1940's, Mr. Shackelford served on the Pantego School Board, which was his first school board position. The Pantego School District was later annexed to Arlington. He served on the Arlington School Board from 1950-1960 during which time he was president for four years. At Shackelford Junior High's dedication ceremony on December 7, 1975, the Arlington Citizen-Journal stated that School Superintendent Martin praised Mr. Shackelford as "the kind of man who will stand up for the things he knows are right."
Mr. Shackelford's entire professional career was spent with Binyon-O'Keefe, a moving and storage company where he began by unloading boxcars. he worked most of his life as a dispatcher and later became president of the company. Also, Mr. Shackelford gave unselfishly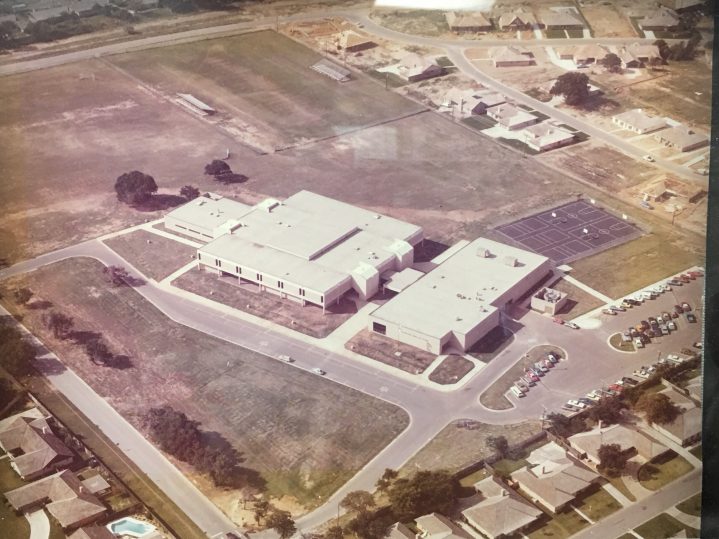 of his time on the boards of many other community organizations such as the Region XI Service Center, Allied Van Lines, Huguley Hospital, and the Salvation Army. He believed that it was important to give back to the community and to help kids because "you only go through this world once."
In January of 1976, the Shackelford students and staff moved into Shackelford Junior High. The building cost $3.5 million dollars(1975) and sits on 20 acres of land.