February 21, 2020
Parents,
What an amazing week! In case you didn't know, this week was a Code Green Week. We started every morning with a treat for students/faculty, teachers' doors were decorated, students and staff had to find their name on a horse cutout and exchange it for a COLTS Family t-shirt. We ended the week with a huge Game Show, and many more celebrations for our students and faculty.  We don't do Code Green every year, but when we do, it's amazing!!!  A big thanks to the faculty committee and volunteers that helped us throughout the week.
Report cards went home with students today. If you did not receive a copy, please let me know.
TRADUCCIÓN EN ESPAÑOL DISPONIBLE:
https://www.aisd.net/arlington-high-school/uncategorized/2020/02/21/mensaje-de-la-directora-21-de-febrero-de-2020/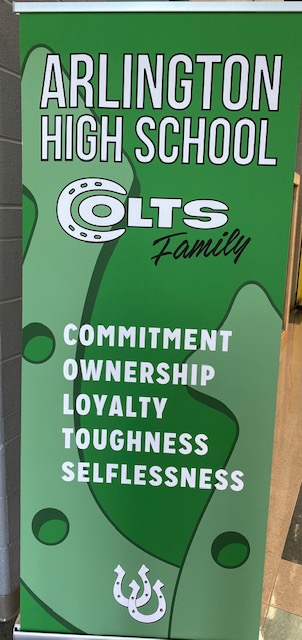 Freshmen Parents
We have many freshmen going off campus during the first lunch period. This lunch is predominantly for freshmen. We do this so we can keep freshmen students on campus during A lunch.
This week we warned freshmen that have A lunch, starting next week if they come back on campus with outside food that it will not be allowed on campus. If you would like to drop off food for your child, you may do so, but must go through the main office off of Park Row.
Again, this is a safety issue for our freshmen, if you have any questions, please let me know.
Open House
Open House will be March 2 in the cafeteria. The PTA meeting will take place at 6:00, with an opportunity to meet with the teachers to follow until 7:30 PM. This will be a meet and greet style in the cafeteria. Also, at the PTA meeting we will be hearing from our Drug Interventionists. She will be sharing information regarding vaping. I know that this message is timely for many of us, and encourage you to attend.
PTA News
Mardi Gras Madness (MGM)
GAME CAFÉ: Friday, Feb 28th, 7:00-10:00 in the AHS Cafeteria. Click this link for more information: game cafe Flyer
$5 Admission Includes:
•Unlimited game play
Games provided or bring your favorites!
•1 beverage ticket, •1 snack ticket •2 door prize tickets (Drawing every 30 minutes)
Benefiting AHS PTA After Prom Party.
Want to receive the Dr. Dhalla's weekly message by text?
If you would like to receive Dr. Dhalla's weekly messages and other information, go to the link below to sign up. Messages will come via text only so be sure to put the phone number where you want to receive the messages.
https://docs.google.com/forms/d/e/1FAIpQLScKNA3TTacuBiGGgG5k1jGoAio_IBsT4JLwawnFRVrRoTToAA/viewform
Need to get the word out?
Does your booster club need help getting information out about spirit nights or fundraisers? Want to show off a special group that deserves recognition? If so, I would be happy to include information in my weekly message. Send an email containing your information to sdhalla@aisd.net and I will be happy to publish it. Please keep the following in mind:
Messages usually are shared once, so make sure the timing is correct
Limit your message to 125 words if possible
For fundraisers selling items, please provide a contact that parents can reach
 Calendar of events
Want to know what's going on in Colt Country, check out the following link.
https://www.aisd.net/arlington-high-school/events/
Kick 'em Colts!!!
Shahveer Dhalla
Principal
THE Arlington High School