WELCOME TO THE HOME OF THE FINE ARTS FOR AISD
Follow us on Instagram, Twitter, and Facebook @arlingtonisdvpa
The fine arts is a central part of every student's experience in Arlington ISD. The Board of Trustees, Dr. Cavazos, and the senior staff are expressly committed to providing an extraordinary experience for every child. Board meetings begin with fine arts performances, art hangs on every wall throughout administrative offices, and fine arts practitioners and administrators alike are included in district-wide discussions concerning every aspect of the educational experience.
Bond 2014
The 2014 bond expended over $9M for instruments and equipment across all disciplines and grade levels in an effort to provide access to as many students as possible. Through this program, we have been able to eliminate fees for instrument usage across the district allowing all students who have interest to join programs. Additionally, 2019 will mark the completion of overhaul renovations for our high school auditoria, allowing students access to state of the art sound and lighting equipment, as well as a refresh of the community spaces.
Bond 2019
The bond proposal for 2019 has been met with overwhelming community support that would potentially push another $6.9M into art equipment, theater equipment, piano replacement, elementary equipment, artist-level instruments, and much more. Additionally, this bond proposes significant fine arts facility enhancement that will take us into the coming decades as a premier district in the arts.
For the 2019-2020 school year, a new approach to the visual arts will allow for our students to have unprecedented resources that will allow for expansion of programs. Additionally, this will create access to advanced competitions that many students have not had the ability to take part in. Watch as Arlington ISD art programs soar to new heights.
Center for Visual and Performing Arts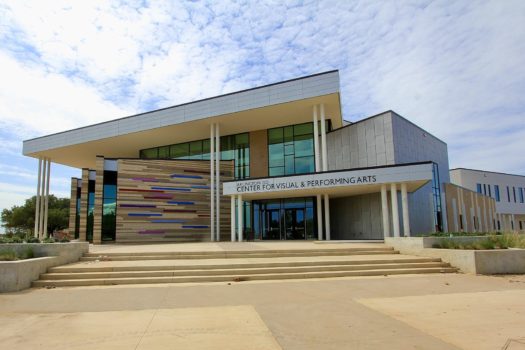 Finally, the fine arts center will be the centerpiece for the district arts programs. Opening in the fall of 2020, this will be a comprehensive fine arts facility. Unlike many standalone performance spaces, this facility will have fully functioning classroom spaces for advanced art, dance, and music courses. Functioning similar to our CTC, there will be a steady stream of students studying the arts every day within our facility. The grand performance hall will be a second-to-none 1250-seat venue that offers a world-class environment for both performers and audience members alike. With off-site HVAC systems, first-rate acoustic treatments, and no proscenium, this hall will rival important concert halls across the nation. In addition, the small performance hall, which meets UIL OAP specifications, will also be available as a small performance venue with a first-class stage. Large studios for dance and art, as well as a large multi-use room will round out the offerings. Through a special relationship with Steinway, Arlington ISD will be one of the only facilities nationally to contain a Spirio piano. This futuristic technology is just one major example of how forward-thinking this facility will be. Finally, the center will contain a formal art gallery. This space is expressly designed as a separate controlled gallery with custom lighting, and indirect natural lighting, that will be accessed off the main foyer. In this unique space, we will not only showcase our students and their art, but will be able to house external shows and more formal art exhibitions.
The future of the fine arts is very bright in Arlington ISD.
Our students deserve nothing less.