Scott Peach
Athletic Coordinator, Coach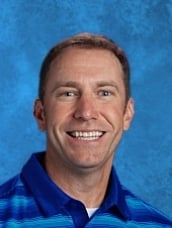 Scott Peach
speach@aisd.net
Head Football Coach / Athletic Coordinator
College : Baylor University;
AISD : 1997;
AHS : 2003
Our first focus is discipline, instilling in our players how to do the right thing. Secondly, we develop a strong work ethic within out players. Finally, we focus on teaching our players on how to win on and off of the field.
Arlington High has had the most successful football program in the school district over the last five years with three trips to the playoffs and a 6-4 playoff record. Arlington High's volleyball program usually goes deep into the playoffs and has more Class AAAAA state titles (1970, 1976, and 1982) than any other high school in the North Texas area. AHS also has exceptional gymnastics, softball, cheerleading, baseball, cross country, golf, swimming, soccer, and tennis programs. Wrestling consistently sends its participants to compete at state level competition.
HOW SWEET IT IS TO BE IN COLT COUNTRY!