ACADEMICS
Overall School Rating:
Not Rated (Declared State of Disaster Due to COVID-19)
TEA School Report Card:
House Bill 3:
PROGRAMS
Gifted and Talented
Pre-Kindergarten (PreK 4 Bilingual)
MISSION
To empower and engage all students to be contributing, responsible citizens reaching their maximum potential through relevant, innovative and rigorous learning experiences.
VISION
To be nationally acknowledged as a premier Title I school.
History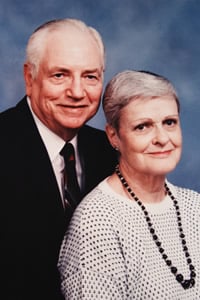 James and Maydelle Crouch served a combined 55 years in public education. After graduating from Texas Agricultural and Mechanical College with a degree in marketing and finance, Mr. Crouch served with the U.S. Quartermaster Corps in World War II. After the war, he worked as a dairy farmer and dairy specialist before entering the classroom in 1958 at Arlington High School as a math teacher. He later earned his master's degree from Texas Wesleyan College.
After teaching four years, Mr. Crouch was named Arlington High's Distributive Education Coordinator, and in 1963 he opened the yet unfinished Sam Houston High School as assistant principal. Mr. Crouch moved to Arlington High School as principal in 1970, staying there until he retired in 1985.
Mr. Crouch was named Father of Distributive Education in Arlington in 1963 and Outstanding Texas School Administrator by the Texas Classroom Teachers' Association in 1977.
Maydelle Crouch was an honors graduate of North Texas State Teachers College, and she taught at Paris Junior College before her marriage. She taught at Burleson High School in 1953, then worked seven years in the Fort Worth ISD before moving to Arlington High School as a French teacher in 1962. Mrs. Crouch then moved to Sam Houston High School, teaching French for 15 years. Mrs. Crouch retired from Bowie High School in 1980.