ACADEMICS
State Accountability
Overall School Rating for Wood Elementary:
TEA School Report Card:
House Bill 3:
PROGRAMS
Gifted and Talented
Pre-Kindergarten (PreK 4, PreK 3)
WELCOME WOOD WILDCATS!
It gives us great pleasure to welcome you to Wood Elementary School.  Our faculty and staff share a collective vision for Wood. Our vision is to be the Elementary of Choice for families in Arlington and the surrounding area. To this end, we place the highest priority on engaging academics and innovative approaches. Students are offered a wide range of courses and experiences that are both interesting and challenging.
We are especially proud to provide several co-curricular and extra-curricular activities to our students in the areas of academics, awareness, performance and other interest groups.  Depending on the grade level, our students can actively participate in UIL A+ Academic clubs, Orchestra for 5th & 6th grade, Music Memory Contest, Community Service Projects through Student Council, and Choir, just to name a few.
Our staff is committed the highest standards in effective communication.  We want to exceed your expectations and ensure a successful year.  Please be sure your child's teacher has your email address, and don't hesitate to ask when you have a question.
We are especially eager to be of service to your family.  If you have questions or concerns, please feel free to call or come by the office.  We are here to be of service and our door is open.
We look forward to partnering with you to ensure the highest levels of learning for students!
History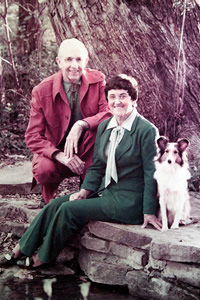 Roy Wood was born in Italy, Texas, on Dec. 26, 1916. He grew up and attended public school in Ennis, Texas. He attended North Texas State Teachers College on a basketball scholarship, receiving his bachelor's in business administration and physical education. He earned his master's from North Texas State University in public school administration, and he did post-graduate work at TCU. Wood married Mary Louise Nation in 1940 and then started teaching in Santa Rosa, Texas. He served in the Coast Guard during World War II. After his discharge in 1946, the Woods moved to Azle where they both taught school.
In 1949, they moved to Arlington when Roy became principal of West Side School, which became Swift Elementary in 1971. He became principal at Berry Elementary in 1954 and, later in 1954, the AISD business manager. Roy Wood became assistant superintendent of finance in 1965, a position he held until his retirement in 1978. Upon his retirement, Roy was honored with a communitywide "Roy Wood Appreciation Day" on June 16, 1978. He was a past president of the Arlington Optimist Club and Arlington Downtown Rotary Club. He also served as a president of the Texas Association of School Business Officials. One of Roy's hobbies was woodworking, and he especially enjoyed working in his shop and making Texas Bluebird houses for his friends. Roy died on Dec. 4, 2009.
Louise Wood's early school years were spent in Azle. She received her bachelor's from North Texas Teachers College in Denton and her master's from Texas Wesleyan University in Fort Worth. After she married Roy in 1940, she began a long teacher career that included stops in Hallsville, Santa Rosa, Azle, Pantego and Arlington, where she spent 35 years teaching fourth grade at South Davis and Hill Elementary's. Louise died on Dec. 6, 2006.
Roy and Louise had two children, Joe and Mary Ann. They retired to their beloved woodland located on a small lake near Tyler. One memorable week was spent working at Habitat for Humanity in New York City where their roommates for the week were President Jimmy Carter and his wife Rosalyn.
Wood Elementary opened in 1979 as the first Arlington school built south of Interstate 20.