Add a header to begin generating the table of contents
Arlington ISD Weather News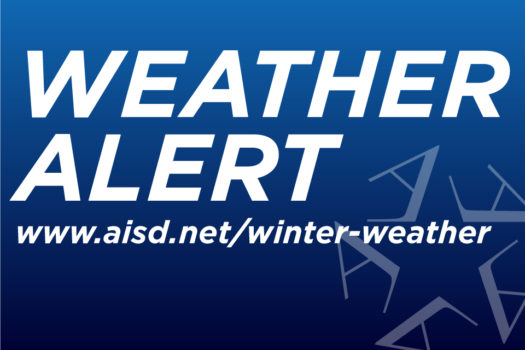 All classes canceled Monday and Tuesday, Feb. 22-23 Following the devastating winter storm system that walloped North Texas and the rest of the state, the Arlington ISD is now picking ...
Campus Closures Due to Weather Damage
Arlington ISD Meals Distribution
Meal Distribution will take place each weekday from 1:30 PM - 2:30 PM at these locations.
Lunches and the next day's breakfast included in the distribution.
ELEMENTARY SCHOOLS
Berry Elementary
Blanton Elementary
Crouch Elementary
Duff Elementary
Farrell Elementary
Foster Elementary
Hale Elementary
Johns Elementary
Knox Elementary
Larson Elementary
Miller Elementary
Pope Elementary
Sherrod Elementary
Short Elementary
Speer Elementary
Starrett Elementary
Swift Elementary
Wood Elementary
JUNIOR HIGH SCHOOLS
Bailey Junior High
Barnett Junior High
Boles Junior High
Nichols Junior High
Ousley Junior High
Shackelford Junior High
Workman Junior High
Young Junior High
HIGH SCHOOLS
Dan Dipert Career + Technical Center
Ferguson Education Center
Sam Houston High School
Seguin High School
Community Support Services
Food / Clothing / Shelter
2-1-1 Texas, a program of the Texas Health and Human Services Commission, is committed to helping Texas citizens connect with the services they need.
Find Open Shelters and Warming Centers
If an emergency has forced you to evacuate your home, the Red Cross may be able to help.
Coping with Emergencies / Resources