RESOURCES
Stay informed and look for information on this virus and situation from reliable and trusted expert sources: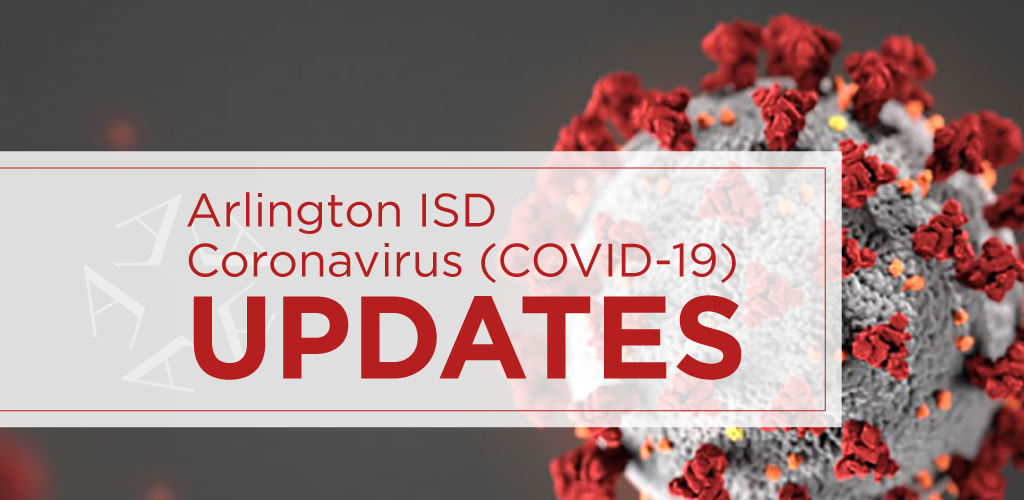 Updated: Friday, April 17, 2020
The Arlington ISD will move forward with its robust At-Home Learning Hub in the wake of the news that Governor Greg Abbott ordered all public schools to remain closed for the remainder of the 2019-20 school year.
Updated: Wednesday, March 25, 2020
The Arlington ISD will not be resuming classes on our campuses on April 6. We do not know at this time when school on our campuses will resume. In the meantime, the At-Home Learning Hub is growing daily so that your children continue their learning. The majority of courses will be uploaded and ready for credits on April 13, 2020. The situation continues to be fluid, and we are following guidance from our city, county and state officials. When health officials determine that it is safe to resume school we will reach out to you with a date.
Updated: Thursday, March 19, 2020
By order of Texas Governor Greg Abbott, Arlington ISD's 78 schools/campuses will remain closed through April 3 in the wake of the spread of COVID-19.
Updated: Friday, March 13, 2020
The Arlington ISD thanks everyone for the care and concern you've shown our students and staff as we grapple with an evolving health situation in our community. Please know that we share your concerns about COVID-19. Later today, the Arlington ISD, along with several other districts, will be discussing extending Spring Break an additional week with public health officials.
Updated: Thursday, March 12, 2020
The health and safety of our students and staff is our highest priority. As concerns over the spread of COVID-19 grow across the nation, please read about measures the Arlington ISD is taking to mitigate the spread of the virus.
COORDINATION
We are working daily with public health officials to help guide our decision-making around district operations. 
CLEANING OF SCHOOL FACILITIES AND SCHOOL BUSES
The Arlington Independent School District is taking the necessary steps and preventive measures to help protect our students, staff, and parents who use district facilities and buses daily.  All district facilities are cleaned and disinfected nightly, and buildings have been deep cleaned during spring break. The district utilizes electrostatic disinfectant misting applicators to destroy germs on surfaces throughout our buildings and buses. These disinfectant applicator systems are used daily to help reduce the spread of germs to students and staff. 
SCHOOL CLOSURE
At this time, we are not canceling any classes unless advised to do so by local health officials. If a case of COVID-19 is confirmed in the District, we will report it to the Tarrant County Public Health Department immediately and follow their recommendations. Should circumstances warrant the cancelation of classes, we will communicate the information by email, phone call, text message, at https://www.aisd.net/coronavirus, Facebook, Twitter and through local media outlets.
Thank you for your support and partnership as we work together to maintain a healthy learning environment.
WHAT YOU CAN DO
There is something you can do. Review good hygiene with your family to help keep them safe. Examples of some routine, everyday preventive actions to lessen the spread of viruses include:
If a student or staff member is sick, do not come to school. Stay home until fever-free for at least 24 hours without using fever-reducing medication.

Cover your mouth with your upper arm or a tissue when coughing or sneezing

Wash your hands often with soap and water for at least 20 seconds. Use an alcohol-based hand sanitizer that contains at least 60% alcohol if soap and water are not available.

Avoid touching your eyes, nose, and mouth with unwashed hands.

Avoid close contact with people who are sick.

Clean and disinfect frequently touched objects and surfaces.
The following FAQs were prepared by Texas Health And Human Services and the Department of State Health Services in response to COVID-19, commonly referred to as coronavirus:
Current understanding about how the virus that causes coronavirus disease 2019 (COVID-19) spreads is largely based on what is known about similar coronaviruses.
The virus is thought to spread mainly from person-to-person:
Between people who are in close contact with one another (within about 6 feet).
Via respiratory droplets produced when an infected person coughs or sneezes.
These droplets can land in the mouths or noses of people who are nearby or possibly be inhaled into the lungs.
It may be possible that a person can get COVID-19 by touching a surface or object that has the virus on it and then touching their own mouth, nose, or possibly their eyes, but this is not thought to be the main way the virus spreads.
People are thought to be most contagious when they are most symptomatic (the sickest). Some spread might be possible before people show symptoms; there have been reports of this with this new coronavirus, but this is not thought to be the main way the virus spreads.
Early on, many of the patients in the COVID-19 outbreak in Wuhan, China had some link to a large seafood and live animal market, suggesting animal-to-person spread. However, it is now clear that person-to-person spread is occurring. There is much more to learn about the transmissibility, severity, and other features associated with COVID-19, and investigations are ongoing.