AISD's RapidIdentity Portal
Adobe Express
Adobe Express is a tool that students can use to demonstrate their learning through creation of posters, flyers, videos, and webpages.
Amplify
Reading screener/English intervention tool for K-6.
Beanstack
Tracks independent reading time for grades K-6
Benchmark Education Company
Benchmark Education company is the Spanish Supplemental Resources platform for K-5
Big Ideas Math
Digital instructional materials for the PreAP Algebra I, Geometry, and Algebra II classroom
Canva
Canva is a graphic-design tool website that uses a drag-and-drop format to create posters, flyers, brochures, collages, and other visual graphics. Users can build using a library of graphics or choose to upload their own. This tool can be used for both web and print media design and graphics.
Canvas
Canvas is AISD's learning management system (LMS) for grades 3-12
Carnegie Learning
Online platform for our adopted French, German, and Chinese textbook series.
Davis Digital
Digital textbooks for the art classroom
Destiny
Destiny is the library management system that libraries use to circulate materials in the district.
Discovery Education
Discovery Education provides standards-based, digital curriculum based resources for K-12 classrooms.
Ed: Your Friend in Learning
Ed: Your Friend in Learning® is a teaching and learning system for K-12 that combines the best of technology, content, and instruction to provide a personalized experience with HMH® programs. Ed is used in AISD for K-12 Reading and Writing Resources.
Edgenuity
EMC eBooks
Ebook, interactive practice, audio files, instructional resources for 5th & 6th grade Spanish / French FLES
Everfi
Financial Literacy App used in grades 7-12
Explore Learning
Science 4 Us
Gale Databases
Various cross curriculur resoures to support curriculm and technology TEKS.
Gizmos
Gizmos provide interactive content that allows students to manipulate variables in a guided-inquiry format to support the time students should be engaging in laboratory and field investigations.
Google Workspace for Education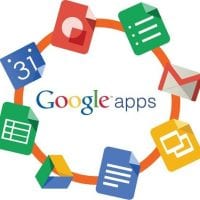 Google Workspace for Education is a set of Google tools and services (Chrome, Drive, Docs, Slides, Sheets, Jamboard, Forms, etc.) that are tailored for schools to collaborate, streamline instruction, and keep learning safe.
iCEV
CTE Textbook Platform used in grades 7-12
Imagine Español
Imagine Español is a unique language and literacy product designed to address the specific features of the Spanish language, including vowels, syllable awareness, transparent orthography, and phonological awareness. This resource is available to all AISD bilingual K-6 teachers and students.
Imagine Math
Imagine Math is a research-based math intervention system designed to support students who are struggling with mathematics.
iStation
Istation's innovative reading, math, and Spanish programs immerse students in an engaging and interactive environment and inspire them to learn. Additionally, administrators and educators can use Istation to easily track the progress of their students, schools, and classrooms. Istation is used for reading interventions in Kindergarten - Grade 8 and for math interventions in Grades 7 - 8.
Learning.com
Learning.com is an online resource that provides solutions to help students, teachers, and schools excel in a digital world. Using the resource, students will be given the opportunity to learn and develop digital literacy skills. Students will have access to lessons that will cover the required K-8 Technology Application TEKS. Concepts are taught and assessed through self-scored interactive lessons, application exercises, activities, discussions, and quizzes. In addition, Learning.com includes project-based lessons that support language arts, math, science, and social studies.
Learning Ally
Audiobooks for Dyslexia & Learning Disabilities
Lexia English
Lexia Power Up
Math 180 (part of Ed: Your Friend in Learning)
Math 180 is a Tier 3 intervention tool for grades 7-12.
MindMup
MindMup is a web-based mind mapping application intended for students and teachers grades 3-12.
MyHRW
Digital Textbooks for Psychology, Sociology, World History, US History
myLexia
News-o-Matic
News-O-Matic engages students with interactive, daily nonfiction articles with a focus on ELA, science, social studies, and SEL. With 10,000+ multimedia-rich leveled texts for elementary and middle school, News-O-Matic makes nonfiction accessible for all readers.
Polaris
Polaris is a data management system used to administer assessments developed at the district and/or campus level (e.g., curriculum assessments and campus based assessments) and to run reports with state and local assessment data.
Read 180 (part of Scholastic)
Read 180 is a Tier 3 intervention tool for grades 3-12.
Renzulli
Renzulli Learning is a differentiated search engine that students can use to explore in-depth topics and instruction based on a student's personalized profile. This application is available to Gifted and Talented Students in Grades 3-6 and Elementary Educators to find resources to differentiate instruction for advanced learners.
Rhithm
For grades PK-6 Rhithm is a resource that will provide immediate feedback regarding the well-being of students and staff in areas unique to their district or campus. At Rhithm, we strive to not only provide educators an evidence-based solution, but also an opportunity to empower all students to practice healthier habits.
Savvas
Savvas is an online textbook platform for CTE Grades 7-12, Grades 3-5 Mathematics, HS Algebra I and African America Studies.
Seesaw
Seesaw is AISD's learning management system (LMS) for grades PreK-2. Seesaw is a platform for student engagement. Teachers can empower students to create, reflect, share, and collaborate. Students "show what they know" using photos, videos, drawings, text, PDFs, and links. It's simple to get student work in one place and share with families.
SORA
SORA is an eBook/audiobook platform for all AISD students and staff
STEMscopes
STEMscopes is a digital mathematics and science solution for Kindergarten - Grade 8, Biology, and Algebra I. This resource is available in English and Spanish for K-5 science, K-8 mathematics, and Algebra I.
Studies Weekly
Social Studies curriculum organized thematically to the strands of civics and government, geography, economics, and history.
TPS
TPS is the Online Platform for the Law I textbooks
Vista Higher Learning
Vista Higher Learning is the digital adoption for FLES Spanish & French, Spanish Language and Culture, and Spanish IV. It is also used for AP French and AP German. Vista Higher Learning is also used to access supplemental resources used in the Dual Language Academies.
VoiceThread
VoiceThread is a cloud application for grades 1-12 that allows users to upload, share and discuss documents, presentations, images, audio files and video.
Xello
Xello is a career exploration platform accessible for grades 8-12.