Mr. Dante Barnett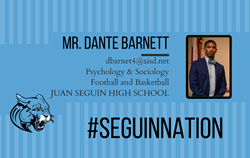 Welcome to #SeguinNation, Coach Barnett! Here are a couple of fun facts about Coach Barnett:
1. He is a proud Kansas State alum and was a 3 sport star in high school in Oklahoma
2. He once won his 5th grade talent show with a sterling rendition of Shai's If I Ever Fall in Love with his best friend, Tyler Lockett, of the Seattle Seahawks.