Ms. Monica Miller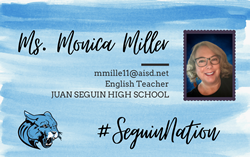 Seguin Nation welcomes Ms. Monica Miller. Bet you didn't know these fun facts about her.
1. She has four fur babies that are the love of her life.
2. She loves to travel every summer or anytime she can.
3. She loves going to 80's rock concerts to see how old the rockers look!