Coach Chace Wilson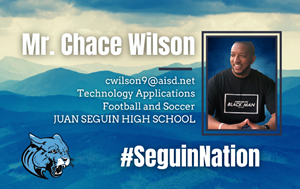 Welcome to #SeguinNation, Coach Wilson! Here are some fun facts about him:
1. Growing up, he wanted to be a Nascar driver. His favorite driver was Jeff Gordon.
2. Throughout high school and college he touched almost every industry working part time jobs! From restaurants, airlines, sanitation, non-profits etc.