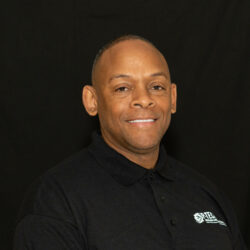 Mr. Jackson is honored to be the P-TECH counselor at Juan Seguin High School! He started his career in the finance industry with Ford Motor Credit company and soon realized that he wanted a career that allowed him to grow and flourish and he found that needed growth by going into the field of education. He had the great opportunity to start his teaching career at the prestigious Yvonne A. Ewell Townview Magnet Center located in Dallas, Tx for eight years. After completing his master's degree, he started his counseling career with Crowley ISD; and then moved to Arlington ISD to part of the Juan Seguin Nation—GO Cougars! When he is not working with students, Mr. Jackson enjoys horseback riding, hobby farming and traveling.
Juan Seguin's P-Tech will focus on students becoming global leaders in the fields of Engineering and Computer Aided Drafting and Design—we want students to be future ready! P-Tech students will have the opportunity to earn 60 college credit hours, an associate degree/industry certification at no cost.
Arlington ISD students will be college and career ready at graduation.
Professional Education
Bachelors in Organization Communication: The University of Oklahoma.
Masters in School Counseling: The University of North Texas at Dallas.