Hi Colts!
Welcome to the 23-24 school year! We are so excited to see all of our new and returning Colts! If you are new to AHS, I hope to have a chance to meet you soon.
I will send emails monthly with a message and important dates/events coming up. I'll also send shorter emails periodically with reminders. I hope you enjoy these emails and see them as a chance to connect with me. Feel free to respond directly, but if you have something that needs urgent attention, I suggest you reach out to an AP or counselor for faster action.
Registration
I hope you've all had a chance to register online. If you are a new student or need help, the counselors are available in person to help you from 8-12 each morning or by appointment. 
Schedules
All returning AISD students should be able to see their schedules in the portal at this time. Be sure to check it for accuracy multiple times as changes are being made often during the next few days.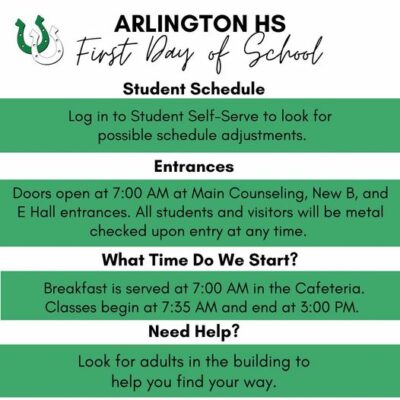 Be prepared for construction to create obstacles. It's a bit of extra hassle, but it's really only that. We're all in it together with great attitudes so just join in the fun.
We have had a really positive and productive summer break. Even with the woes of construction, I feel a calm at the start of this year that I've never experienced before. We learned through COVID that hardships can bring out the best or the worst in us. I am confident that this year of transformation to our campus is going to bring us closer as a campus and as a community. We'll all be dealing with big issues, but I know the AHS community will use it to bring out the best in ourselves.
My son is a senior this year. I have built my educational career around his life and have savored every second these last 12 years. And now, in his final year of high school, I will do what I've told the senior parents to do each year. Calm down, be present, and enjoy your kid. Everyone says it goes by fast, and maybe it does or maybe it doesn't. But that's not what really matters when it's all over. What really matters is that you can look back on the years you had with your kid and say, "I savored every second."
Savor the seconds, my friends.
I hope you all have the very best year at Arlington High School. It is truly the best place to be.
Sincerely,
Stacie Humbles, Principal
The Arlington High School
First here. Best here. 
Upcoming Dates:  
8/11: Freshman Colt Camp in Gym A; Sneak-a-Peek @ 6pm. Enter through E Hall, New B, or Main Counseling and walk your schedules!
8/15: V Tennis @ LD Bell
8/16: First Day of School! Classes begin at 7:35am. Arrive EARLY for metal checks! (More info coming next week.)
8/17: Football Scrimmages; VB v. Lake Ridge
8/18: XC @ Kennedale
8/19: Future Colt Cheer Clinic
8/22: V Tennis v Grand Prairie; VB v. Lake Ridge
8/23: Colt County Fair @ 5pm
8/24: Fresh/JV Football v. Mesquite
8/25: V FB v. Mesquite
8/28: VB Meet the Colts @ Mad Mike's
8/29: V Tennis @ Haltom; CVB @ Timbercreek