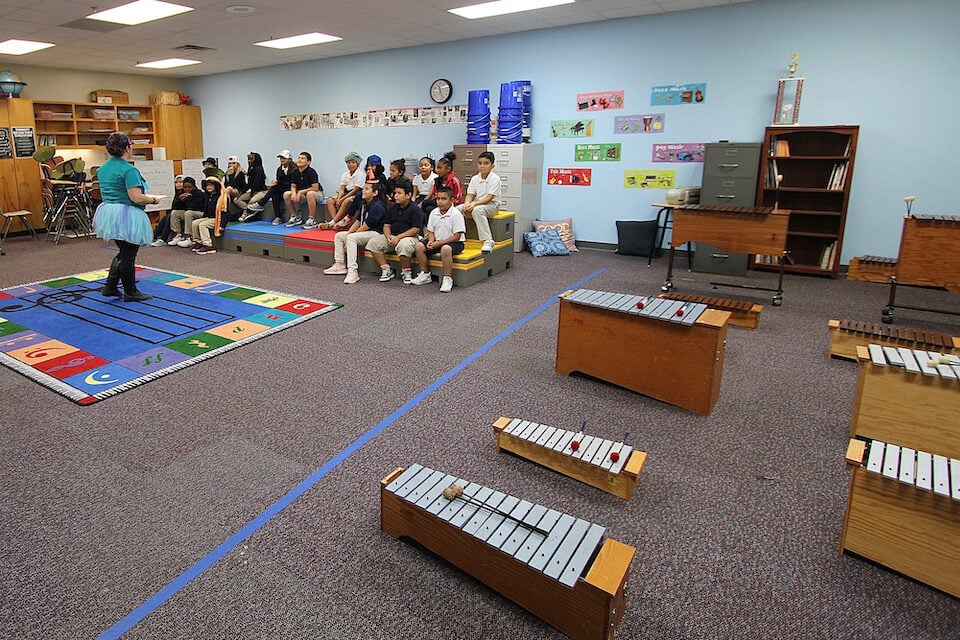 Boomwhackers, thunder tubes, rain sticks and Orff instruments.
Those are just a few of the fun instruments you'll find in an Arlington ISD elementary music classroom. They are also some of the hands-on equipment included in the district's new elementary music standards.
Arlington ISD's fine arts department is working on a plan to standardize elementary music instruments for each elementary school. Once the new standards are set, the district will use the 2019 Bond to purchase new instruments and equipment to bring every school up to the new standard.
This is going to mean outstanding new instruments at every school and ensure access to every student.
"We're going to provide equitable access to music equipment, instruments and materials at every grade level K-6," said Barbara Keaton, Arlington ISD's fine arts coordinator for elementary and choral music.
Why standardize?
"Every student in Arlington ISD deserves access to the most modern equipment," said Arlington ISD fine arts director Dr. Christopher Anderson. "As we open new schools and apply a new standard to our classrooms, it is imperative that we extend that standard to all schools in the district wherever possible."
By implementing the new standards, the district can ensure every teacher has the right equipment to support the curriculum. And every student has access to excellent instruments.
That means no more broken-down equipment.
"Teachers don't need to make broken instruments work," Keaton said. "We needed to give them permission to say, 'This has served it's 50 years – it can go.'"
The updated standards will add to the district's already outstanding fine arts program, nationally recognized year after year as a "Best Community for Music Education" by the National Association of Music Merchants Foundation.
"We are a Best Community for Education because we value elementary education as much as we value secondary education," Anderson said. "We are practicing what we preach in that developmental fine arts programs are critical to success in academics as well as advanced work in the arts."
No one knows that more than the elementary music teachers.
"Students are constantly on a mission of exploring new activities that are challenging to their minds and feed their curiosity," said Isui Rodriguez, music specialist at Speer Elementary. "Having instruments in a classroom is a perfect outlet for these students to dive into a new form of creativity. Not only do instruments promote creativity, but they also provide students with lessons that they will be able to apply in junior high, high school and as they get older in life."
Developing the standards
The 2019 Bond gave Keaton and the fine arts department the green light to start developing updated elementary music standards. They started the process by consulting national experts on the ideal types of instruments and equipment for the youngest learners.
Then Keaton formed a committee of 16 elementary music teachers representing all areas of the Arlington ISD. Over the course of three meetings this fall, the teachers reviewed the national experts' input, brainstormed the types of instruments and equipment they use and need in the classroom, and finally ranked all the items.
"We had them concentrate first on what helps them deliver curriculum to their own students, then collaborate with the whole committee and think about what would be best for all teachers and all students across the district," Keaton said.
After the meetings, Keaton and members of the committee began visiting every elementary school to take inventory for equipment. Once the inventory is complete, 2019 Bond funds will be used to buy new instruments and equipment.
"When all the inventories have been tallied, purchases ordered and supplies delivered, we will arrive at a more equitable elementary music program than AISD has ever had before," said Ramon Alvarado, the music teacher and choir director at South Davis Elementary School. "No student will be precluded from a rigorous music learning experience because of a lack of instruments or supplies, and every student will have equal access to such music instruction regardless of which school they attend."
The Standards
The essential items making the standards list fall into seven categories:
Orff Instruments – These include a number of barred instruments like xylophones. The new Orff instruments the district will order are made with fiberglass, instead of the traditional rosewood. They still sound great and are impervious to temperature changes. That means they can withstand Texas summer heat.
Wooden instruments – These include instruments like wood blocks and maracas.
Metal instruments – These include instruments like triangles, finger cymbals and cowbells.
Special instruments – These are instruments like thunder tubes, rain sticks or slide whistles.
Props – Props are items like bean bags and parachutes.
Miscellaneous – These include any number of items like a wireless mic for the teacher or flip-form risers.
Classroom sets – Classroom sets mean that there is enough of the same instrument for each student to have one. The district will order classroom sets for items like recorders, ukuleles, rhythm sticks and boom whackers.
Drums – There are all kinds of drums, like tubanos, congas, bongos and gathering drums.
"It's so important to show the students that there is a plethora of ways to make music," said Felipe Rosales, the music specialist at Corey Academy of Fine Arts and Dual Language. "Making sure each campus has the instruments to do that is essential!"
What's next?
Once the inventory of all district elementary schools is complete, Keaton and her team will work on purchasing new instruments. This will make sure every Elementary music classroom is up to the new standards.
That's music to the teachers' ears.