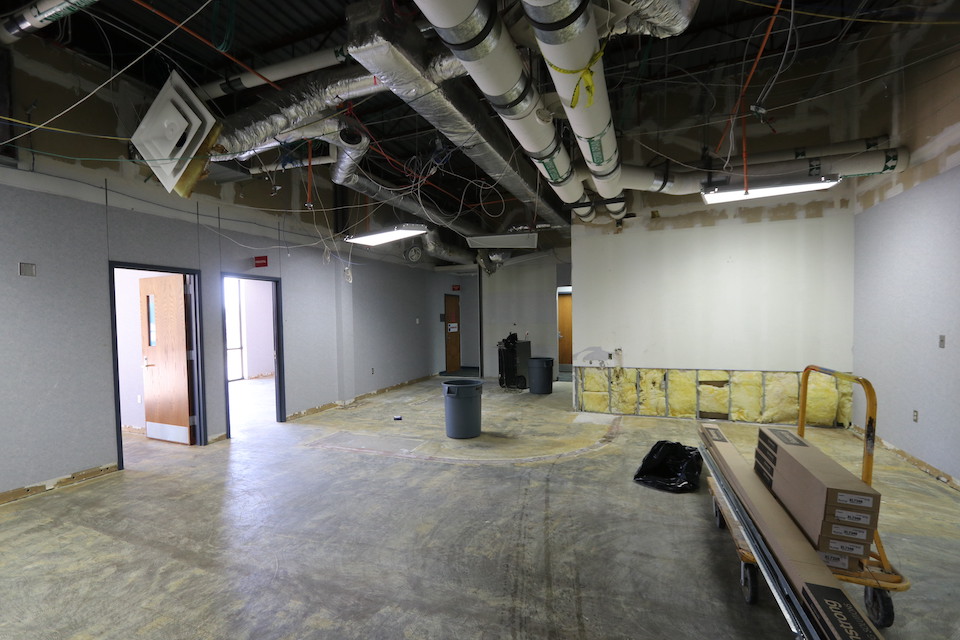 Construction is Underway at Sam thanks to Bond
When construction started at Sam Houston High School during the 2014 Bond program, you knew it. There were cranes and all kinds of construction vehicles and materials outside.
The 2014 bond-funded additions and renovations were major construction projects that changed the footprint of Sam Houston.
There was the new entrance, a new ninth-grade classroom wing, the new cafeteria. Plus, they gutted the old cafeteria to build new classrooms. And the theater was updated, along with many other renovations throughout the campus.
This summer, the 2019 Bond projects for Sam Houston got underway. If you drove by though, you wouldn't know it. No cranes this time. And much less noise.
The Sam Houston facility isn't growing with this bond program. But there are important renovations being done throughout the campus.
"The renovations will greatly improve the learning environment, creating a modern and state-of-the-art space for students to thrive," said Sam Houston principal Juan Villarreal.
And even though you can't see construction on the outside right now, if you walked in the door today and looked up, you'd see it.
Most of the ceiling tiles are gone – on their way to being replaced. And there are hallways and offices whose floors have been ripped out.

"One area that will particularly benefit from the renovations is the halls of SHHS," Villarreal said. "With upgraded lighting and new floors, the halls will look even better than before. The new lighting will provide students with a greater sense of pride in their school."
The new flooring and new ceiling tiles are slated to be installed before the start of school.
But renovation work will continue through the school year and all of 2024.
In addition to the new ceilings and new flooring, the scope of work includes:
mechanical, electrical and plumbing improvements that includes replacing the boilers, electrical switchgear and transformers,
replacing light fixtures and painting selected areas of the building,
accessibility improvements, including hardware replacement and ramps,
restroom renovations, including replacing fixtures in selected restrooms
site Improvements that include drainage upgrades in the courtyard
fine arts renovations in the auditorium, including replacing the light fixtures, enclosing the control booth and adding a ramp to the stage,
gym and locker room renovations,
safety and security enhancements that include hardware upgrades, a new interior keying system and additional card access doors.
"Although construction projects can present temporary challenges like limited access to certain areas or increased noise levels, it is important to remember the long-term benefits these improvements will bring the school," Villarreal said. "The patience and understanding of students, staff and the community during this period will be rewarded with a transformed educational space that will serve future generations."
See photos of the renovations underway at Sam Houston. And learn more about all the projects in the 2019 Bond at aisd.net/Bond2019.