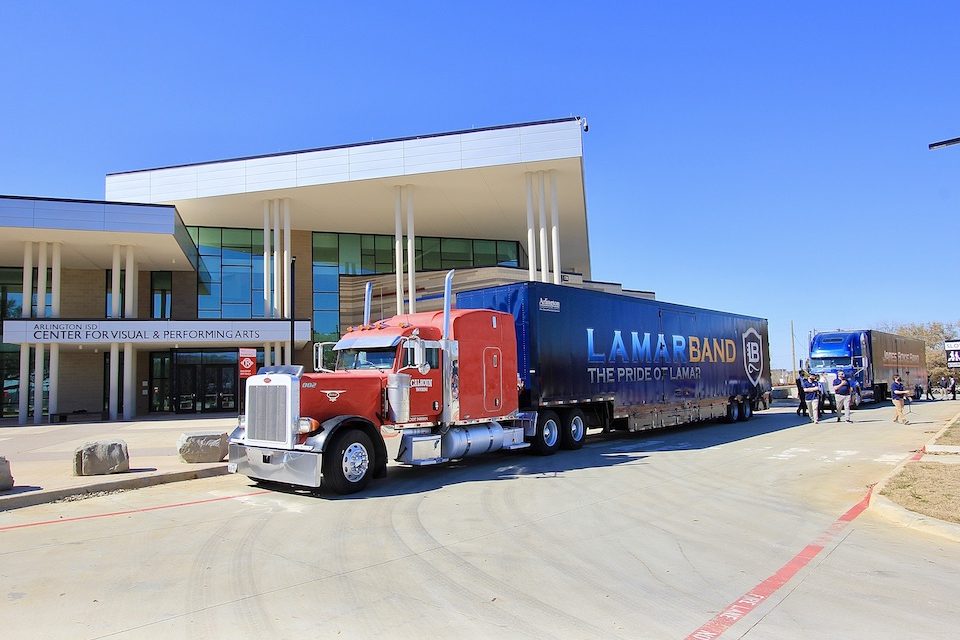 The 2019 Bond literally rolled up to the 2014 Bond yesterday and parked. 
New band trailers, funded by the 2019 Bond – one for each of the Arlington ISD's six traditional high schools – arrived in Arlington Tuesday and made their first stop at the 2014 Bond's final project, the Center for Visual and Performing Arts.
The six, full-size semi-trailers – each bearing the name and logo of a district high school, rolled into the CVPA's parking lot with a police escort and were greeted by district and fine arts administrators, high school band directors and band students from each high school.
Superintendent Dr. Marcelo Cavazos welcomed the trailers by speaking of the district's investment in students and fine arts.
"This investment in Arlington students is significant because they have shown us time after time that if we invest in them, they excel. It's that simple equation," he said.
Trailers built for bands
The six Kentucky-built trailers were outfitted by Clubhouse Trailer Company and designed specifically to transport marching band equipment like instruments and uniforms. Clubhouse, an Oklahoma company focused almost entirely on band trailers, worked with the district to customize the trailers to meet Arlington's band's needs.
"The entire design and layout of the trailer has been created to ensure safety and efficiency," said Drew Taylor, who founded Clubhouse Trailer Co. with Jeff Hadley. "Safety of equipment, students, staff and parents, and efficiency in packing and unpacking equipment. As Jeff and I were both band dads, we recognize these problems and have crafted unique solutions to ensure that these great kids have a world-class experience with our products."
The Arlington ISD trailers each have two levels and specifications include:
A drum wall that can hold 10 snares, five tenors and six bass drums.
Uniform rack that can hold about 40 uniforms for the loading crew and front ensemble. Having a dedicated spot for the uniforms helps them stay cleaner and last longer.
Upstairs level dedicated to individual instruments. Each shelf unit holds a combination of 15 baritones and mellophone horns (brass instruments) with space for additional wind or brass instruments below. There are also accommodations for seven sousaphones (tubas) with additional instrument storage above.
Downstairs level with room for 15-18 pieces of front ensemble equipment with additional space for sound and speaker carts.
Guard drawers that hold about 40 flag bags for the color guard. The drawers are on full-extension slides underneath the trailer.
Full-width ramp for safe and efficient loading. The ramp is 15 feet long, has a capacity of 1,000 pounds and stores in only 10.5″ of space.
Stairs at both front and back designed for efficient people-flow and both powered using an electric actuator.
Solar panels on the roof that power the batteries for the stairs, ramp and interior and exterior LED lights.
Impact
Until now, district bands' travel to other schools and events made for a logistical challenge, to say the least. Fleets of vehicles – small trailers pulled by pickups, parent cars and school buses – were employed to transport band students and their hundreds of thousands of dollars of instruments, uniforms and equipment. Inefficient, slow, unsafe and chaotic are just a few of the adjectives that describe the process.
But that all changes with these trailers. Lamar High School's band students have some new adjectives.
"It's awesome," said Aditi P., a senior Lamar High School student and president of the marching band, as she toured Lamar's new trailer.
"It'll make things one thousand times easier," said senior Lamar band member Andy A. "Loading stuff will be ten times faster."
"Now it will be organized," said Justin B., another senior member of the Lamar band. "Usually we took instruments on the bus. Now everything will be in one place."
Sam Houston High School band direct Arun Bhatt added "peace of mind" and timeliness to the list of advantages the trailers will provide.
"This investment will dramatically impact our students, providing peace of mind that we no longer have the fear of running late to performances and competitions," he said.
Time to hit the road
The trailers are just the latest investment that Arlington ISD has made in fine arts. From the CVPA and new instruments and uniforms to strings rooms at every elementary, the district's bond programs have made fine arts a significant priority. And it's all about equipping students to excel.
"Students, this is all about you," said Christopher Anderson, Arlington ISD director of fine arts, at the ceremony welcoming the trailers. "We're proud of what you do, and we wanted you to feel first-rate when you roll up."
While it's all about the students, it's all because of the Arlington community. It's the support the community offers in so many ways, including voting for and funding the bond programs, that has made these trailers, and so much more, all possible.
Bhatt spoke for each band when he thanked the community.
"The SHHS Band is extremely grateful to the Arlington ISD administration, parents, alumni and community for passing the bond that has provided these new trailers," he said. "Our students have a fantastic showpiece that shows the commitment of the community to their learning and gives them a strong sense of pride in their school. We can't wait to take it on the road for the first time!"