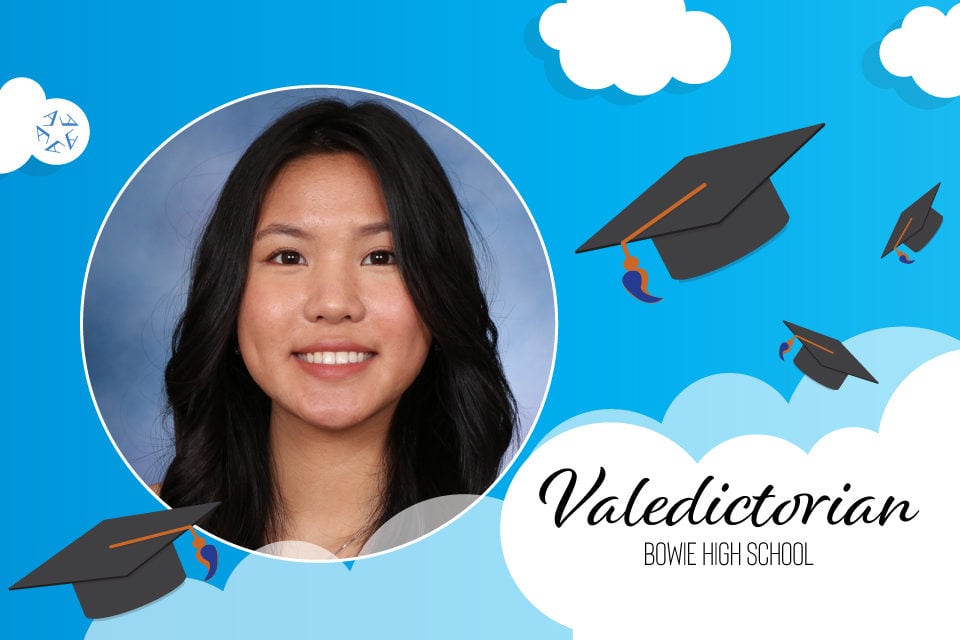 In the week leading up to Arlington ISD graduations June 3 and 4 at AT&T Stadium, we are celebrating the Class of 2021 valedictorian and salutatorian for all seven Arlington ISD high schools.
Name: Tiffany Tran, Valedictorian
School: Bowie High School
College attending: University of Texas at Austin
Intended major: Public Health
Attended Arlington ISD schools since: Pre-K 3
What advice would you give students entering high school?
Play smart, work hard and be resourceful. School is going to be hard regardless of how smart you are because of the sheer workload. Getting stuff done as soon as possible or making a good schedule will cause less stress and give you so much time for doing what you want to. Prioritize you. Lastly, sometimes listening in class isn't enough, so do some exploring online for better explanations and tips fit for you.
What was the most difficult lesson you've learned while in school?
What happens is meant to happen. Trust the process and all will be okay. Dealing with disappointment naturally hurts, but it's about bouncing back.
What's the most meaningful moment you will take from this school year?
Being able to meet and talk to all my friends face-to-face at prom was one of the most pleasant surprises of the year. I didn't think that many people would come, but I'm so glad they did. I just never realized how much I missed them all.
What makes you the proudest about experiencing your senior year in COVID-19?
It's been amazing to see all my peers advocating and fighting for what they believe in and calling out the many injustices around the world and in our country. We've shown that despite how tired we may be, we'll never stand down and we will continue to speak out.
What do you see yourself doing 10 years from now?
I see myself cruising in Hawaii in a Porsche convertible on the way to eat poke and to hike to the waterfalls with beautiful scenery all around me. This will be my celebratory vacation after finishing medical residency and becoming a doctor or whatever my dream job turns out to be.