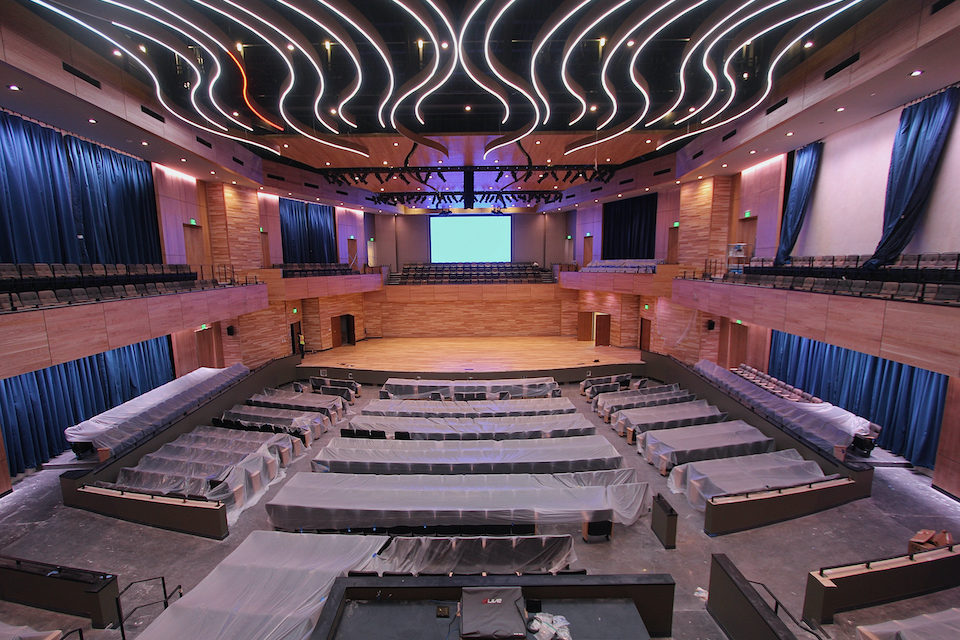 Final 2014 Bond project opening soon
It's almost ready. After years of dreaming, planning and construction, the Arlington ISD's Center for Visual and Performing Arts, the final project of the 2014 Bond, is nearly ready to open. Yesterday, training began for teachers in the new facility's art, dance and piano keyboarding rooms. Then, after winter break, the building will open for students and classes.
See photos of the new facility.
The CVPA, part of the district's new Arts and Athletics Complex located next to AT&T Stadium, is a state-of-the-art arts facility that will catapult the districts fine arts program – already nationally recognized – to an even higher level.
The CVPA will serve the entire district, offering grades Pre-K-through-12 world-class performance and demonstration venues. The building includes a 1,250-seat concert hall, 425-seat theater, classroom space, art and dance studios, instrument repair center and art gallery.
"I am already receiving calls from organizations and individuals who are excited and inquiring about our event spaces," said Christopher Bryant, director of the CVPA. "I have no doubt that the CVPA will be a beacon for visual and performing arts not just in DFW, but in the state Texas as well!"
The CVPA will also house fine arts courses for students from all district high schools, offering them new opportunities to explore their artistic potential in music, art and dance. 
"The programs we have at the CVPA are incredibly unique," said Cathy Isaacks, dean of instruction for the CVPA. "Arlington ISD is providing opportunities to students that they may not find anywhere else. Similarly, students will have the chance to work with peers across the district, growing in their chosen art form at a very high level."
Courses at the CVPA include:
Modern/Contemporary Dance
CVPA Contemporary Dance Company
AP Music Theory
Piano
Musical Instrument Repair
Art IV
IB Visual Arts
Students in the CVPA courses have been meeting at the Arlington ISD Professional Development Center since October but will move into their new home in January.
"We are all so excited to get into the new space, and really utilize the opportunities the new center will provide, Isaacks said.
To make sure it's ready for that January opening, construction crews are currently finishing, testing and commissioning the lighting, rigging and audio/visual systems for the concert hall and theater, and finishing all the last-minute tasks.