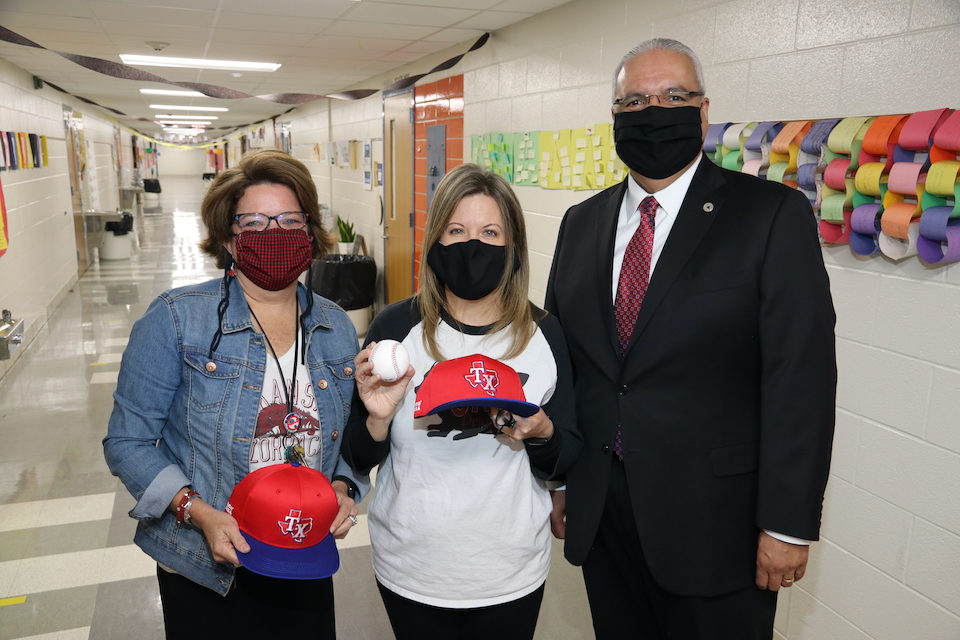 Dunn Elementary teacher of the year in 2019-20
Dunn Elementary fifth-grade teacher Audrey Simmons is getting to play hooky Monday.
At least it will be an excused absence.
Simmons, who teaches science, was selected to represent the district for the Texas Rangers home opener Monday at Globe Life Field.
The lifelong Rangers fan was surprised by Arlington ISD Superintendent Dr. Marcelo Cavazos Monday morning with the news.
"I'm honored," said Simmons, who used to sit in the bleachers at the old Arlington Stadium when she was a kid. "My husband's going to go through the roof."
Simmons will be on the field for the honorary first pitch as the Rangers honor frontline workers before the game. She also gets four tickets to the game and plans to bring her husband, daughter and son-in-law.
Simmons planned on being at Globe Life Field for Arlington ISD's annual night last year before the pandemic ended any chances of fans attending games in the first year of the stadium. Now she'll have a chance in front of a sold-out crowd to be on the field for the first-ever Opening Day festivities at the park.
"We've all been through a lot," said Cavazos. "This is our road to recovery. We have to have some normalcy, some excitement."
The Rangers wanted to honor teachers because they feel like they helped the club get to the point where they could open up for fans by taking care of students and allowing parents to get back to a more normal routine.
Simmons has done that despite some obstacles. She was Dunn's teacher of the year for 2019-20, a year ended with all students learning virtually. Like many teachers in the district, she's had to deal with COVID-related issues both inside and outside the classroom. She was also displaced with the rest of the Dunn staff and students by the February winter storm that caused damage to the school.
While Dunn is slated to re-open for students next week, they'll have to manage for one day without Simmons.
Now Simmons will get to be part of history. She'll be thinking of her father, who died in 2013, and her sister, who died just before the school year started. Both were huge Rangers fans and Simmons plans to wear her father's Rangers sweatshirt to the game.
"They were the crazy fans," she said. " We were bleacher creatures growing up. Some of my best parts of childhood were at the ballpark. This is such a big deal. I'm so honored."