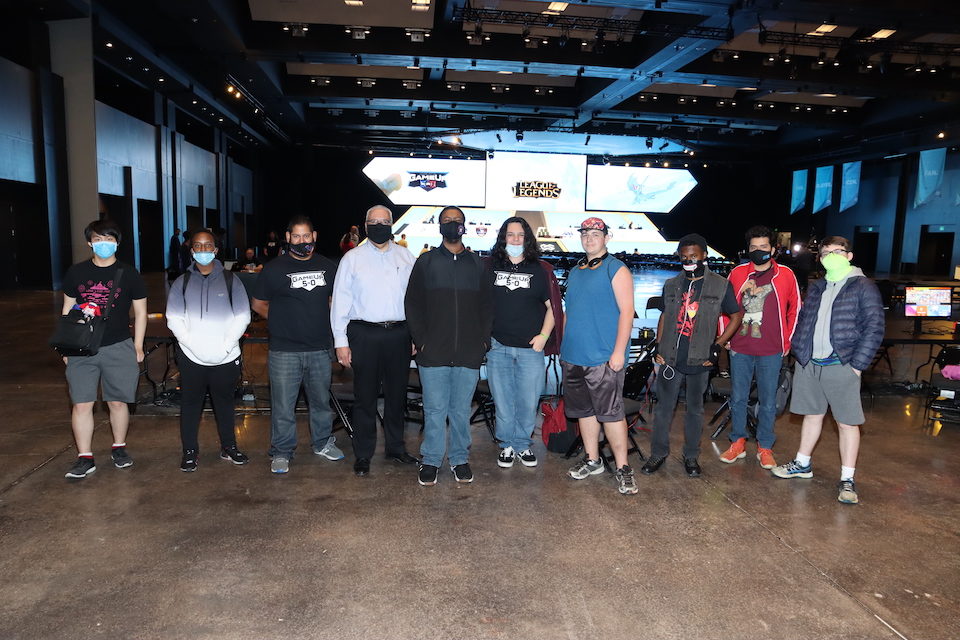 Competition builds common ground
The moment couldn't have gotten any more intense.
Arlington ISD superintendent Dr. Marcelo Cavazos was laser-focused. So was Arlington Police Department Chief Al Jones, as the two men battled it out in front of a small crowd this past Saturday afternoon.
Well, not in reality, that is.
At Game Up 5-0's first-ever gaming tournament, held at Esports Stadium Arlington (ESA), the two area leaders controlled multiple characters to kick and slam each other around within the arcade game Marvel vs. Capcom.
And Lamar High School junior Jesus Luna couldn't help but join in on their fun. While balancing a hot dog in hand, the 17-year-old walked back-and-forth between Cavazos and Jones to give each one tips on how to defeat the other until the time ran out.
"I gave myself a victory," Cavazos quipped, while raising his arms in celebration, as a group of officers and Arlington ISD students relished in the moment.
"You were a good teacher, buddy!" Bowie principal and event organizer Reny Lizardo instantly shouted to Luna.
So what exactly was the teen's advice?
"I just told them to button mash," Luna said, suggesting that the men's busy schedules likely made them gaming novices. Therefore, randomly clicking to execute their attacks was the way to go, he said.
Luna was among more than 100 Arlington ISD high school students and about 30 officers who participated in the free event at the stadium, located in Arlington's entertainment district. With blaring hip-hop music keeping the energy high, it was a gamer's paradise.
Most of the action took place in a large room decked out with peg artwork of classic characters from games like Mike Tyson's Punch-Out and The Legend of Zelda. Donning masks and headphones, the participants sat in comfy gaming chairs while indulging in Street Fighter, Call of Duty, Valorant and many other games.
Like his peers, Luna was excited – shocked, even – to see the police officers join them for seven hours of video gaming. Throughout the day, the officers banded together against the youths in four wildly popular games: League of Legends, Madden NFL 21, Fortnite and Super Smash Bros. (Luna's personal favorite). Winners received prizes including one-month passes to the Esports Stadium.
Crime Prevention Sgt. Vincent Pewitt helped spearhead the initiative through the department's mentoring program, Coach 5-0. A 24-year officer, he's recognized a deep divide between community members and the police. The event was designed to help local youths and APD officers find common ground, he said.
"We know that a lot of students don't play basketball, don't play football," Pewitt said. "But we have students who play games. This is a sport, it is just different."
Pewitt further explained that the program came into fruition a few months ago after several dozen APD policemen shared that they were also extreme gamers. "I didn't know there was a big interest (among the officers)," Pewitt said. "That was great for us."
 The event was right up Joshua Loesel's alley. The APD officer of five years said gaming profoundly impacted his life when he grew up in an impoverished, single-parent home in Killeen. It was a positive outlet throughout his middle school and high school days, he said.
Today, the officer has nearly 400 video games. It is a stress-reliever after a hard day's work of patrolling the streets – particularly because of the creative, detailed character storylines often found in the games, he said.
Loesel, 28, hates the stigma that gaming is a mindless, destructive activity. "People need to separate reality from fiction. It's been statistically-proven that video games do not make you violent," he said.
During the event, Chief Jones emphatically charged Loesel and other officers to "go to town" on the students. But the teens remained ready – especially Trayn Kearns, a junior at Venture High School and longtime lover of Minecraft.
"Let's get it. Woo-hoo!" Kearns yelled as she sat down and strapped on her headset before facing off against officers in League of Legends.
Just prior, the 17-year-old candidly "educated" district resource officer Rebecca Martin on voice-over recording for animated characters – a profession that Kearns hopes to enter in the near future. She said watching officers play video games was "a very interesting concept."
"It's not something really that I would put two and two together," Kearns said.
The gaming tournament did more than provide entertainment, however. Chino Lee, ESA's chief revenue officer, said the event helped bring younger guests back to the state-of-the-art facility since the COVID-19 pandemic slowed things down.
Natalie Houghton, director of annual giving for Cook Children's Health Foundation – one of the tournament's many sponsors – was thrilled to attend the event. From her booth, Houghton shared information about her organization's gaming marathon called "Extra Life." It brings thousands of gamers together to raise funds and awareness in support of local Children's Miracle Network Hospitals. Since its inception in 2008, Extra Life has raised more than $50 million for local children's hospitals.
"So, basically, it's play games – heal kids," Houghton said. "It's a direct impact to our patients because it's benefitting those areas that help them still be kids and still have fun."
Houghton said Extra Life participants can include their involvement with the charity on their college applications and also receive volunteer hours. This falls right in line with Lizardo's vision. The Bowie principal and event organizer is writing a dissertation on esports and hopes the initiative will lead to possible futures in gaming for the teens.
Pewitt hopes that police departments from cities throughout the Metroplex would start their own programs that would bring their school districts' students to Arlington to compete in gaming. He feels that Esports Stadium is the perfect venue because of its central location, and that APD's first event was a success.
"Seeing officers talking and communicating with the students, learning from each other and having fun, it was a win-win for everyone," Pewitt said.