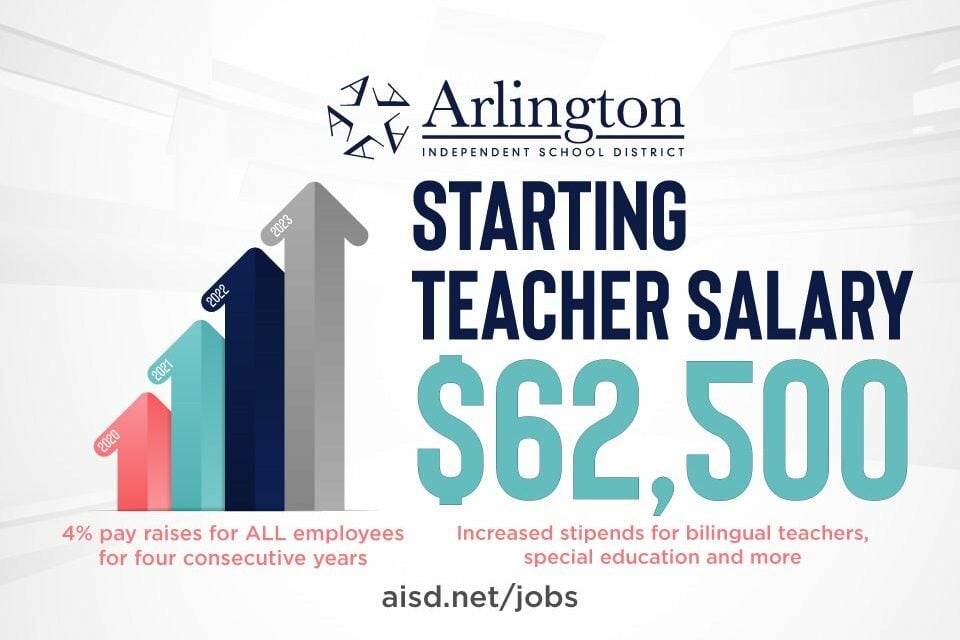 The Arlington ISD Board of Trustees approved salary increases for all eligible district employees at a board meeting Thursday night.
"One of our most important priorities as a board is ensuring that we recruit and retain the most talented people to our district," said Melody Fowler, board president. "By prioritizing teacher and staff compensation, we can do just that."
Teachers, librarians and other employees paid on the teacher salary scale will receive a 4% raise for the 2023-24 school year. It marks the fourth-straight year the board has approved a 4% raise for these employees. The $2,600 raise is a general annual pay increase of the market median. The starting rate for new teachers is now $62,500 (up from $60,400), and increased stipends are offered for athletics, bilingual teachers, special education teachers and others. Substitute teachers will also receive an increase making the starting pay for substitutes a minimum of $120 per day. Retired teachers with degrees and certifications can earn up to $175 per day with incentives.
The board approved increases in starting salaries for bus drivers and lead food service workers from $20.26 to $24.06, along with increases for teacher's assistants, bus attendants, security personnel and other support staff positions.
Employees paid on salary schedules other than the teacher salary schedule will also receive a general annual pay increase of 4% on their 2023-24 pay grade mid-point. Targeted adjustments will be made where appropriate to achieve market competitiveness and move staff members closer to the mid-point of their pay grade.
"Once again, our board has continued to show its commitment to the employees in the Arlington ISD," said Dr. Marcelo Cavazos, superintendent. "To include a 4% raise for all
of our employees for a fourth consecutive year is further testament to that. We know these are challenging times in the educational field, but we believe we have the best and brightest people dedicated to education and they deserve fair compensation."