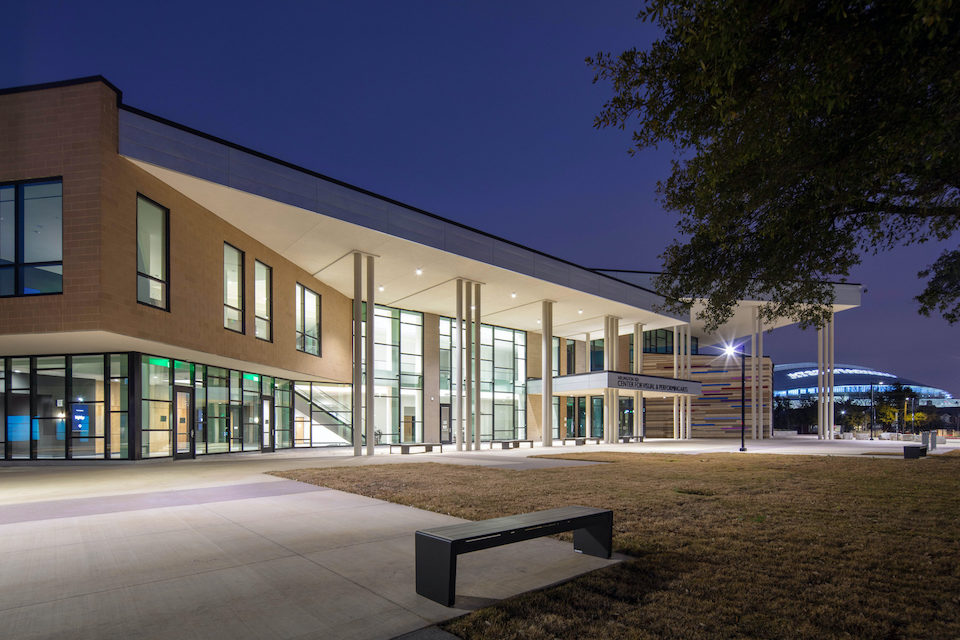 Arts and Athletics in Arlington ISD make a statement 
The awards keep piling up for the Arlington ISD's Arts and Athletics Complex, home of the Center for Visual and Performing Arts and Athletics Center. The two facilities, a centerpiece of the 2014 Bond, were awarded a star of distinction by the Texas Association of School Administrators and included in its 2022-23 Exhibit of School Architecture.
"The Arlington ISD is honored and very grateful to have our new Arts and Athletics Complex recognized by TASA," said Kelly Horn, Arlington ISD assistant superintendent of facility services. "These new facilities provide our students and the community of Arlington with amazing venues to celebrate the achievements of our students in the arts and in athletics. They represent a tremendous spirit of cooperation and planning between the Arlington ISD and the City of Arlington."
The Center for Visual and Performing Arts (see photos) offers world-class performance and demonstration venues, including a 1,250-seat concert hall, 425-seat theater, classroom space, art and dance studios, instrument repair center, piano lab and art gallery. Next door, the Athletics Center (see photos) is home to the district's first-ever natatorium, which includes a 50-meter pool with moveable bulkheads, a diving area, warm-up pool and seating for 1,000 spectators. The Athletics Center also houses a 1,200-seat arena for competition wrestling, basketball and volleyball.
It took a tremendous team effort to turn the vision for the AAC into a reality. The design and construction of the facilities was a meticulous, years-long process that included fine arts and athletics administrators, teachers, community members and, finally, the architect, HKS, and the general contractor, Adolfson & Peterson.
"Each of these facilities fulfill the vision we shared with the district to create a bridge to student futures," said HKS director of education, Leonardo Gonzalez Sangri. "Arlington coaches expressed their desire to offer student-athletes venues that enhance and inspire their performance. Commanding views to both Globe Life Field and AT&T Stadium are a reminder of opportunities available to them. And the CVPA is simply stunning.
"We can't wait to learn the individual stories of students who will stand above their peers as they compete for scholarships into nationally renowned programs through the experiences afforded in these performing and visual arts spaces. These world-class venues are options you would typically find on a college campus, delivered for the benefit of the Arlington ISD students and community."
The AAC was built to impact students, give them world-class opportunities and educational experiences and set them up for a rewarding future. At the Athletics Center, the facility is frequently busy with volleyball and basketball games, swim practices and meets, plus a district water safety program for all third graders. And at the CVPA, art students have new opportunities and world-class spaces in which to create, practice and perform.
"The school at the CVPA provides learning opportunities that are not available anywhere else," said Cathy Isaacks, associate principal at the CVPA. "Unlike other arts schools, we do not require auditions; our courses are open to all Arlington ISD high school students. This allows more students the chance to experience our unique programs and receive a truly special classroom experience."