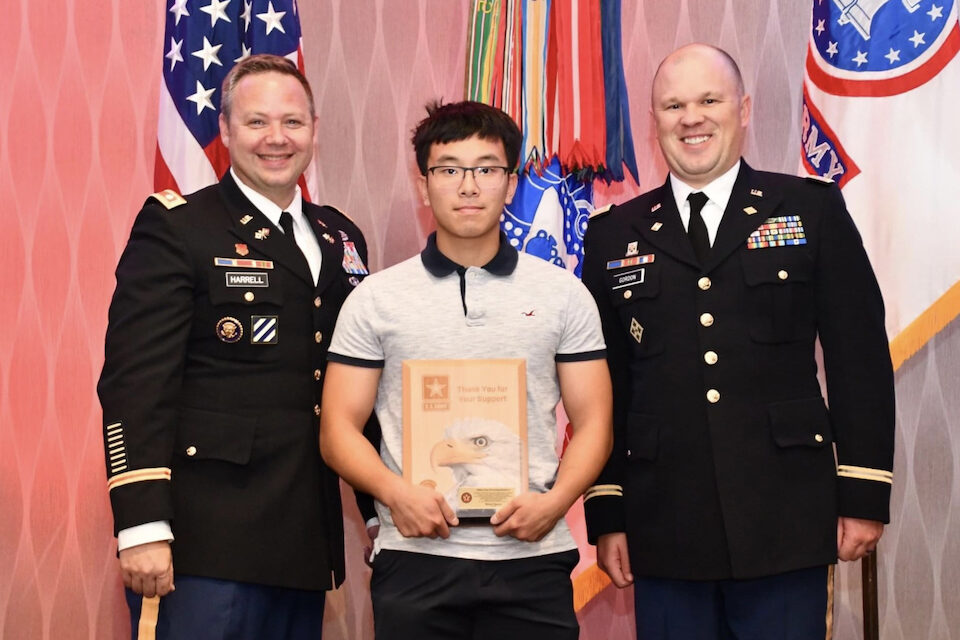 From the graduation stage to boot camp
Although Richard Nguyen just celebrated one of the biggest moments of his life – graduating from Martin High School at Globe Life Field last week – the celebration won't last too long. The 18-year-old won't have much time to kick back and enjoy the summer sun with friends. It's time for Nguyen to start planning and packing. Within a few weeks, he will head off to boot camp at Fort Sill Oklahoma as an enlisted member of the Army Reserves.
Nguyen is among dozens of Arlington ISD students who are enlisting in the military, which involves leaving their families for boot camps just mere weeks after walking across the graduation stage. And he is ecstatic about his decision.
"I decided to join the US Army Reserves because I wanted to be more disciplined before going to college. I am aware of this from my research into what it is like to undergo military training, and I believe that joining that regiment will be really helpful for me," Nguyen said. "I also want to serve America and further its interests."
Nguyen, who emigrated from Vietnam at age six, said he first became fixated on the military between his fourth- and sixth-grade years at Adams Elementary School. It was then that he would spend hours watching YouTube videos on Medal of Honor recipients.
"I was curious to know what the job entailed and how it would compare to other occupations," Nguyen said. "I also read books and listened to podcasts about the Global War on Terror, which is currently taking place in the Middle East, and I find myself really motivated to take part in it."
In addition, Nguyen said Johnny Kim's story – showcased on a podcast hosted by former Seal team leader Jocko Willink – inspired him. Kim, whose parents emigrated from South Korea, was a Navy Seal who later became an astronaut, Harvard doctor and Navy pilot.  
Nguyen decided to join the Army Reserves because he thinks the branch most closely matches his personality. "I have done some research into what military training entails and would like to participate in it. I considered joining the Air Force or the Navy, but neither is my preferred option," he said.
Man on a mission
While enlisted careers do include infantry roles, many jobs involve hands-on training for mechanical, transportation, human service or office fields that transfer well to the civilian world, according to Today's Military, a Department of Defense website.
Nguyen, who graduated from Martin with honors, was a member of the school's STEM Academy and wrestling team. He was involved in the Vietnamese Student Association (VSA) cultural club and volunteered with the stage crew for annual drama performances at the campus.
Shane Decker, a U.S. Army recruiter based in Arlington, worked closely with Nguyen over the past year. He explained that Nguyen will attend basic training and advanced individual training over the next year. Once those programs have been completed, he will attend UT Arlington, enrolled in the nursing program.
Decker said the route that Nguyen has chosen to take is "optimal for him" due to the job for which he qualified and enlisted: a biomedical equipment specialist. He wants to one day become a medical doctor. This is largely because when Nguyen was in second grade, his father had a stroke that left him paralyzed on his left side.
"I picked this job in the Army because I believe that it will expose me to a lot of medical equipment that the military uses on their soldiers and patients," Nguyen said. "I want to see my upcoming patients get better and want to treat them for their illnesses."
Decker said for his medical studies, Nguyen will have the opportunity to utilize the GI Bill, Texas Hazelwood ACT and his Army Reserve Tuition Assistance (TA). The GI Bill and Hazelwood Act, Decker said, will provide Nguyen with payments for nine years of education along with the ability to utilize the $4,500 TA annually. Plus, he will earn roughly 40-70 education credits from his job training, Decker explained.
Many students are joining the military, Decker said, for two major reasons: "Cash for college and experience."
On average, Americans will pay $80,000 to attend a four-year university.
"Not many have this kind of cash set aside to be able to attend school, and no one wants that kind of student loan debt," Decker said.
So, enlisting in the military is a great career choice for many. Decker boasted that it offers, "Great pay, great benefits, travel opportunities, leadership skills, becoming part of something bigger than themselves, education, job skills, licensing, certifications and, most importantly, teamwork and personal growth."
Spreading her wings
After finishing up her senior year, Martin graduate Rayven Smith decided to enlist in the Navy versus enrolling in a nursing program at Prairie View A&M University or Texas Woman's University. Throughout high school, which was mostly spent in Fort Worth, the 18-year-old played volleyball and basketball and was an honors student.
When she was a junior, Smith hardly considered the military as a viable career option.
"I automatically thought I was going to die in battle," she said.
But Smith had a change of heart. While watching a Navy petty officer's presentation, she felt challenged to think about the impact of debt and how she could gain a "life-long family" from within the military branch.
"I had to go and experience a once-in-a-lifetime opportunity," she said. "The benefits correspond with my future plans, and they will help me be financially stable with no student loans," Smith said. "The Navy was the first branch to consult me and make a great case."
Smith said she is looking forward to "a lot of bonding time and hard workouts mixed with explorations and learning." She recognizes that boot camp will not be easy.
"Some people might cry and quit when they get corrected," Smith said, believing that her Christian upbringing will mentally and physically prepare her for boot camp. 
Her mother, Fakeysha Hall, said she's very proud of how her first-born child chose to join the military "without any influence of her parents." But she said her daughter will leave a void in their household in mid-July when she leaves for boot camp at Recruit Training Command, Great Lakes, Illinois.  
The family moved to Arlington at the beginning of this past school year. This enabled Smith and her brothers – Ryan and Jakobe, who will be a senior and sophomore respectively in the fall – to attend Martin together. She and her mother are also very close.
"I'm going to miss my baby," Hall said. "But she is stepping into young ladyhood. So, I'm with her 100%."