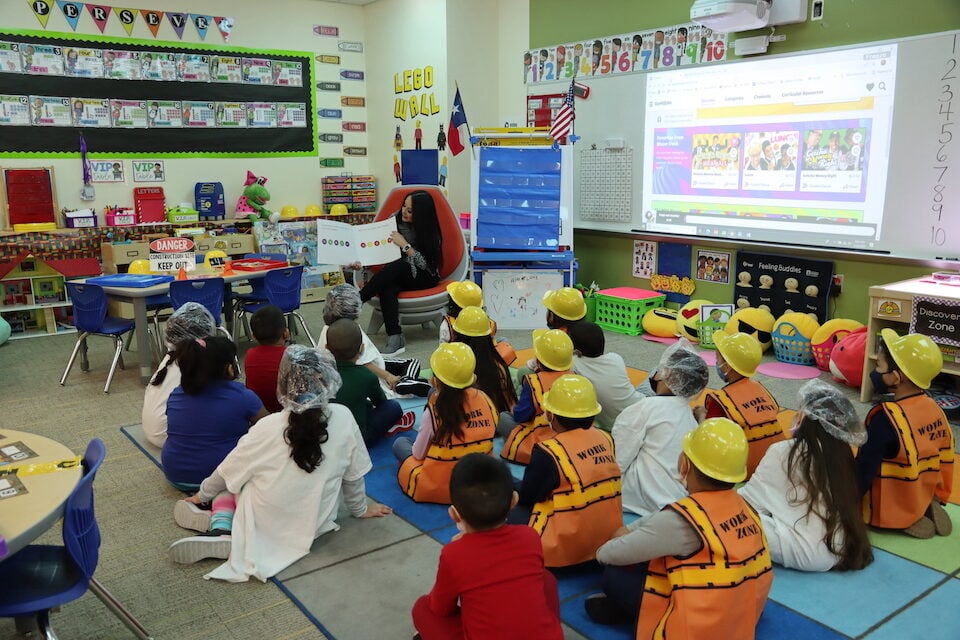 There are just ten days left until the first day of pre-K! And no one is more excited to start the new year than the pre-K teachers. They've been in training recently to get ready for pre-K's exciting new curriculum, and now they're getting their rooms ready.
Here's what a few of them had to say about what they're most excited about for this new year.
Cynthia Gomez, Pre-K 3 Bilingual Teacher, Berry Elementary
"I am ecstatic to begin the 22-23 school year and ready to welcome my little ones! Also, hopeful for some sense of normalcy as we will have everyone in person! Can't wait for the growth we will see in our students as they will be with us all year long!"
Betania Payan, Pre-K 4 Bilingual Teacher, Goodman Elementary 
"My trainings this summer have inspired me to prepare better and motivate my students as they have fun while learning new skills. I am super excited about all the ideas I took with me for literacy and math centers and about STEM. On top of that, an amazing new curriculum full of resources that I can't wait to start using. I am super pumped!" 
Ember Jordan, Pre-K 3 ESL Teacher, Amos Elementary School
        "I am excited to implement the new curriculum with my new students.
I am looking forward to trying new things with my students that I wasn't able to do last year. 
I love seeing the new students' smiling faces and watching their love of learning begin!"
Katy Peterson, Pre-K 4 ESL Teacher, Amos Elementary
"This summer, I had the opportunity to attend an awesome conference and additional professional learning sessions. I learned some fantastic teaching ideas and have new skills 'under my belt.' I'm most excited about being able to implement the new ideas and skills with my students. I know it's going to be a great school year!"
Dara Cunningham, Pre-K Teacher, Fitzgerald Elementary
"I am most excited about the new curriculum we will have to introduce to the students! SAVVAS has great resources for not only the classroom but for the students' homes. I can't wait to share this with students and have families more involved with their child's learning." 
Jacqueline Bawab, Pre-K 3 Bilingual Teacher, Bebensee Elementary
"I'm so excited to start the new year, the reason being is that I consider that we as teachers can try to make our world better. Why not start with the little ones? If we teach them the basics to get along with everyone, to follow directions, to play fair and learn to deal with their feelings and be attentive to others' needs as well as to remain curious and forever learners I think that will be my legacy. I may never see them again, but one day they may remember and be thankful that somehow they are able to deal with anything the world throws at them because one teacher told them they could and believed in them."
Register today!
With the first day of school approaching quickly, it's time to register your student if you haven't already. Learn more about all of our programs for 3- and 4-year-olds and start the registration process online here.
If you're still trying to decide if you want to send your little one to pre-K – because let's face it, it's a big decision and they're still so little – you should know that Arlington ISD's pre-K program is the best in class. From our certified teachers to our fun, play-based curriculum, everything about the Arlington ISD's pre-K is purposefully designed to set your child up on a lifelong path of learning and success. Plus, it's now free for all 4-year-olds! Learn more at aisd.net/prek and feel free to contact the pre-K team at (682) 867-9418 prekquestions@aisd.net.