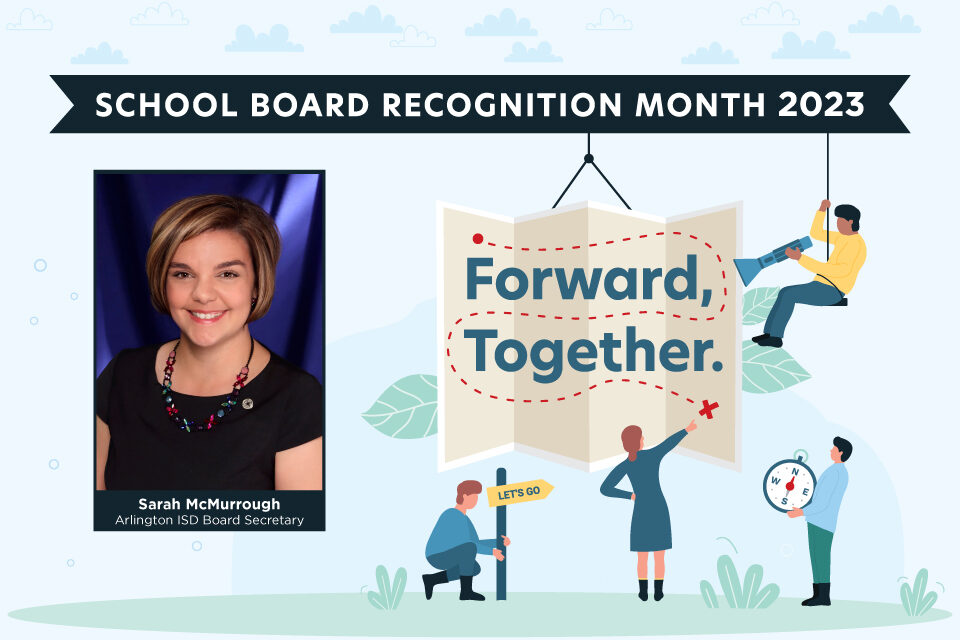 McMurrough is a Bowie High School grad
January is School Board Recognition Month, and this year's theme is Forward, Together. The Arlington ISD has been moving forward together thanks in part to our board. We appreciate our school board members, so we're catching up with them this month to find out about their lives and why they serve.
We're starting with Bowie High School graduate and former Arlington ISD teacher Sarah McMurrough, who has been on the board since 2021 and now serves as the secretary.
Do you think you bring a different perspective to the school board as a former teacher?
I do. That's one of the motivating factors that pushed me to run. I really see the value of bringing that perspective regardless of what we're talking about – allocating funds – even when we're looking at assessment data. Anything that we talk about all funnels into the most important work happening in our district, and that's supporting students. As an educator, I love supporting what takes flight in classrooms every day. I'm constantly seeing things through that lens, and I hope that really does help provide a different perspective.
Do you see the school board in a different light now as opposed to when you were a teacher?
I truly do. I have learned so much being on the other side. What's very interesting is I'm still an instructional coach in a neighboring district and they have their own school board. I'm constantly able to kind of calibrate what staff and what the board is doing in both districts and it's very interesting to me. I have a whole new level of respect for what superintendents do, what board members do as volunteers from the community. I gain a better understanding every day of our governance role through TASB conventions, experience and my colleagues mentoring me.
What do you think you've learned the most about being on a school board?
I've learned you have to trust your gut, and my gut as an educator and as a mom tells me to do what's best for kids. Sometimes we do have to stay within parameters. We have to stay within the state and TEA's parameters. You have to stay within budget parameters. But at the end of the day, you have to like the person you see when you look in the mirror and you have to say you did everything you could when your tenure as a board member is over to make a positive impact, to leave the school district a little better than it was before you. That's really my hope.
What's the most rewarding part about being on the school board?
Knowing the implications of the hard work we're doing and how it will affect not just the students in our schools right not, but for generations to come. For example, when we approved universal pre-K this past year, I really have been thinking about how just giving the community access to that free education for your four-year-old with a highly-qualified teacher, the implications that will have for generations to come in Arlington. That will better prepare children for kindergarten every year. It's hard to sum up the most rewarding part about being a board member. What I can tell you, it is rewarding every day. I feel blessed to be on the board.
It's School Board Appreciation Month. What are you most appreciative for?
I'm very appreciative for all our children and every adult who helps mold and shape them. That ranges from the teachers in the classroom to the paraprofessionals who are so giving and caring to the parents and grandparents and guardians at home who partner with them to our administrative leaders. I'm just so appreciative of our students, especially post-COVID. I think it's deepened all of our appreciation for how resilient our kids are, and all the adults who work so hard and give so much. I want to be the best servant I can for them.