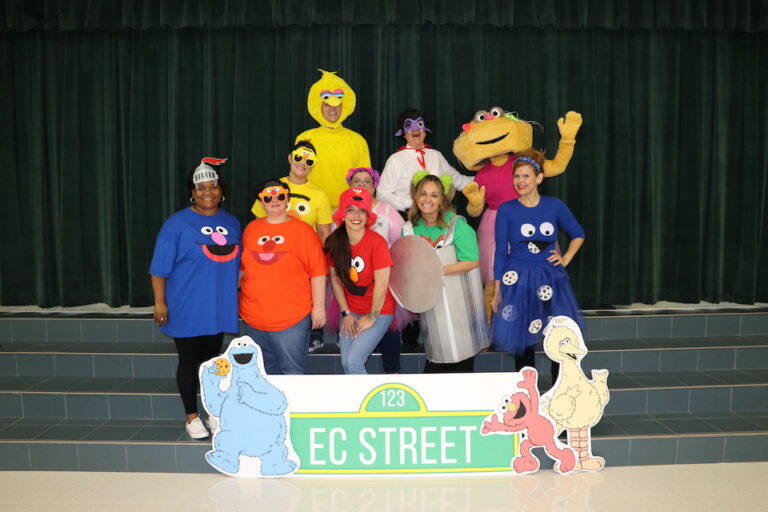 Ashworth and Berry turn into EC Street
It rained almost all last week. But on Friday morning in the cafeterias at Ashworth and Berry elementary schools, it was a sunny day. That's because Arlington ISD's early childhood learning team was there to chase the clouds away.
Dressed as Sesame Street characters, the 10 members of the early childhood team gave a special presentation – dubbed "EC Street" – for the schools' pre-K students. 
"At this age, learning has to be fun," said Dr. Jackeline Orsini, Arlington ISD director of early childhood learning.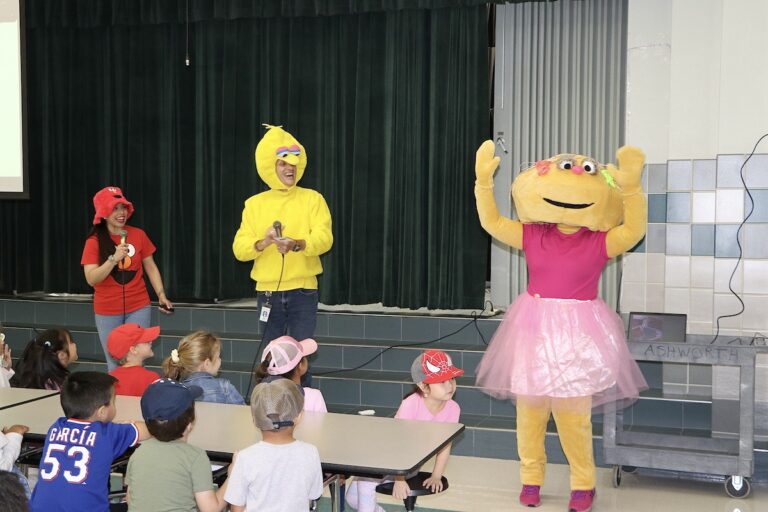 And this was certainly fun.
The students squealed with excitement each time a new Sesame Street character emerged. The first two to enter were Elmo and Big Bird.
Elmo – also known as Nadia Azari, Arlington ISD early childhood specialist and former longtime pre-K teacher at Morton Elementary – kicked off the program reading the Sesame Street book "We're Different, We're the Same" as the story's pictures were projected on the cafeteria's big screen.  
With each turn of the page, another Sesame Street character entered to help illustrate the lesson of the book. Bert and Ernie came out for the pages about noses. Noses are different – everyone has a different nose. But they are all the same. They all "breathe and sniff."
"Our main goal is to help the kids fall in love with literacy," Orsini said.
But the lessons went even deeper.
"Every character represents one of the things that we also encourage in our early childhood program," Orsini said.
Like Bert and Ernie represented friendships.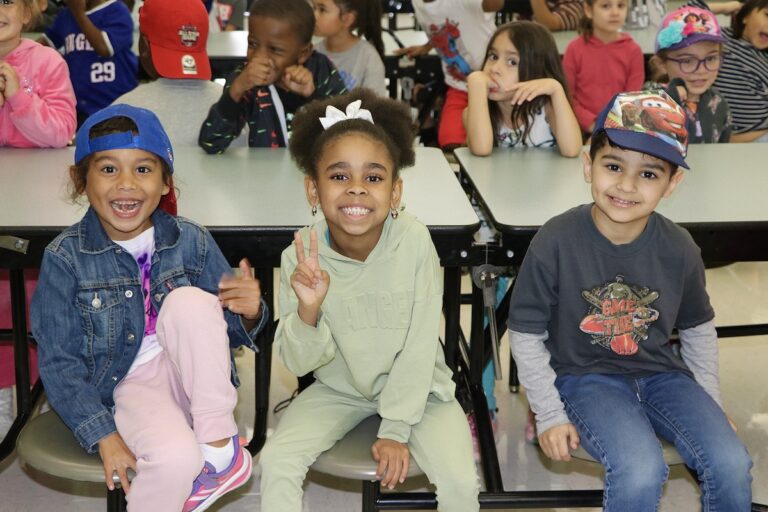 "We help students when they come to pre-K learn how to make new friends, how to share and how to communicate," Orsini said.
And then there's Grover.
"Grover's a little active and he gets very excited," Orsini said.
True to the blue monster's character, Grover dashed into the cafeteria, running across the room when he was introduced in the story.
Azari – or rather Elmo – gently encouraged Grover to walk. Just like how pre-K teachers help 3- and 4-year-olds learn self-regulation and how to act in different scenarios.
Orsini's character – Cookie Monster – needed some guidance from Elmo, too. He came into the cafeteria munching on chocolate chip cookies.
Elmo kindly encouraged him to make healthy eating choices, which are also a regular point of emphasis in Arlington ISD's pre-K classrooms.
Oscar the Grouch, Zoe, Abby, and the Count all soon joined in on the action, too, bringing a lot of learning packaged in a ton of fun.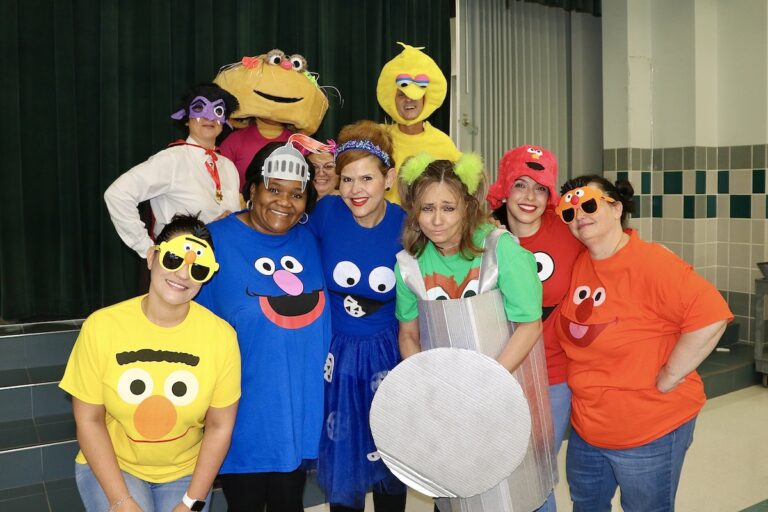 When it was all over, the students couldn't wait to give Big Bird – aka Ken Foster, Arlington ISD early childhood learning specialist and former pre-K teacher at Kooken Education Center – and the whole Sesame Street gang high fives and hugs.
"This event is always so much fun because we get to reinforce content that our teachers work on every day," Foster said. "Being on campus with the students, we support literacy by showing them how fun reading can be and how it is represented in many ways, like role-playing. We also promote social-emotional learning by reminding them that even though we're all different, we're also all the same. Like it said at the end of the book, 'Aren't you glad you look like you?'"
Enroll in Arlington ISD pre-K
This is what Arlington ISD pre-K is like – lots of fun and lots of learning. And lots of sunny days! If your 3- or 4-year-old isn't already in one of Arlington ISD's best-in-class pre-K programs, it's not too late. Register today at aisd.net/preK.