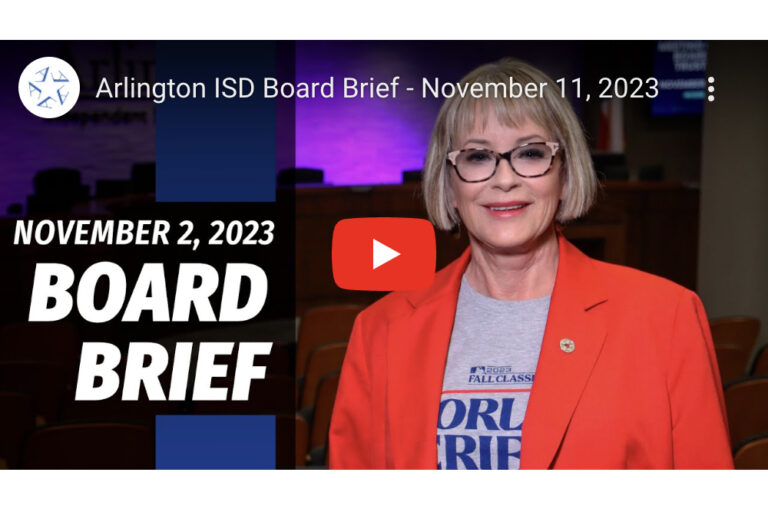 Board gets update on next year's calendar
Arlington ISD's Board of Trustees meeting on November 2, 2023, is in the books, and here are a few of the highlights.
The Miller Elementary Mavs Choir – which includes fifth and sixth graders and is directed by Glenna Collins – opened the night with a tribute to our veterans. They performed "The Armed Forces Medley" and invited active military members and veterans to stand. Thank you, Miller Mavs, and thank you to our veterans.
Then the board honored the student of the month, Abel Hernandez, the senior class president at Arlington Collegiate High School. Abel is known for his positive attitude, humility and hard work. And for his DJ skills, which he provides for school events. Congratulations, Abel!
From the student of the month, the trustees moved to the community partner of the month. They presented the Community Powered by Possibilities Award of Appreciation to Grand Prairie Police Department. In Arlington ISD, there are seven schools located in Grand Prairie, and the GPPD serves as an outstanding partner. Along with the protection they provide, the GPPD regularly engages with our campuses to become a part of their communities, from the Reading Rocks Program at Crouch Elementary to career day at Starrett Elementary, and so much more. Thank you, GPPD.
Everyone is always interested in the school calendar for next year, including the trustees. So, Aaron Perales, Arlington ISD executive director of engagement, equity and access, gave the board an update on the creation of next year's academic calendar. A lot goes into making the calendar, and there's actually a 29-member committee with representatives from throughout the district and community that puts it together. They focus on emphasizing student outcomes while aligning the calendar with local and state laws and considering the impact on staff and the community.
So, when is the 2024-25 calendar actually coming out? Soon – probably by the end of this month.
Finally, Susan Patterson, Arlington ISD director of career and technical education, gave a presentation about Arlington ISD's career and technical education programs. That means it wasn't a short presentation because the district has lots of CTE programs. And they're all designed to give students real-world opportunities that prepare them for a successful future after graduation.
Those are just a few of the highlights from tonight. If you would like more details on any of these, or any of the items not covered here, please click this link to watch the entire meeting.