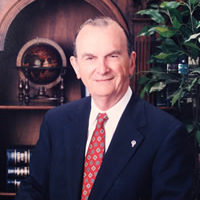 John Webb was born in Clarksville, Texas, and he graduated from Cedar Hill High School in 1940. He attended North Texas State College in Denton and then Gainesville Junior College. He interrupted his college studies to volunteer in the Navy and serve in the South Pacific during World War II. He completed his bachelor's and masters at North Texas State.
John began his educational career in 1946 at Tyler Elementary in Belton, Texas. Eventually, he taught history and science as well as coached sports at Belton Junior High before moving to Arlington in 1952.
Former superintendent Ross Wimbish hired Webb to be Arlington ISD's first assistant principal in 1952, working under James Martin at Arlington High School for three years. He was both an administrator and he taught social studies.
In 1955, Webb was named principal of Arlington High School, a post he held for 15 years. During his years at Arlington High School, Webb directed the school's move from Cooper Street to its present location on Park Row Drive.
In 1970, Webb was named the AISD's Director of Business and was Executive Director of Finance when he retired in 1987.
Webb Elementary had its formal dedication on November 14, 1993.
Do you have historical AISD information or pictures?
Contact AISD Communications at pio@aisd.net or 682-867-7342