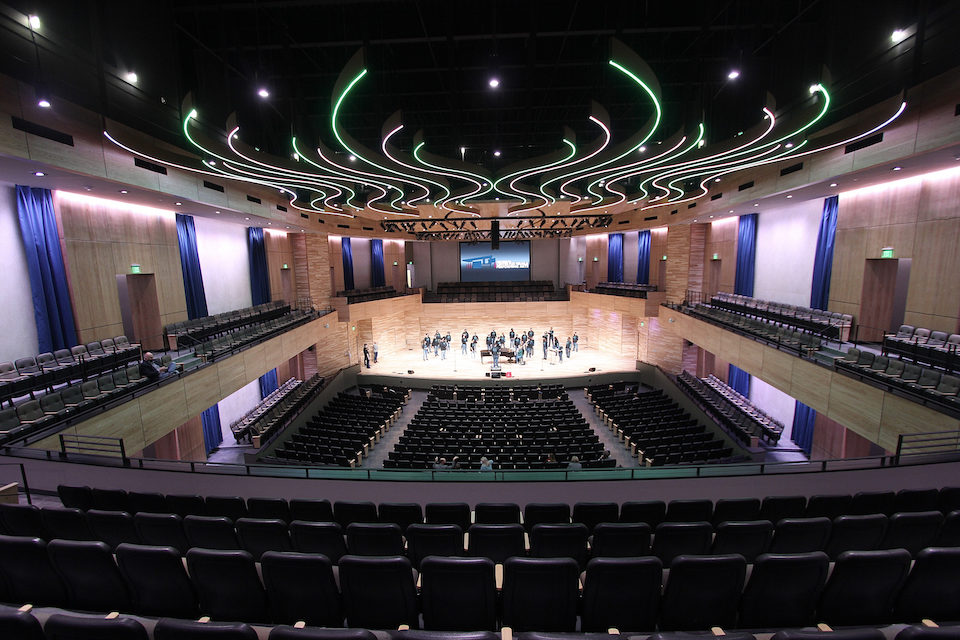 Colt choir earns special honor
The Arlington High School Colt Chorale Varsity Tenor/Bass choir christened the Arlington ISD's new concert hall in the Center for Visual and Performing Arts last week, recording a concert for the Texas Music Educators Association (TMEA) upcoming annual convention.
Concert Hall
"The concert hall is absolutely gorgeous," said Mason Barlow, Arlington High School director of choirs. "It is both beautiful to look at and perform in, which is not always the case. I know it's something that Arlington ISD students will be proud to perform in for a long time, and we were honored to be the first."
The 1,250-seat concert hall was acoustically designed to offer an optimal live performance experience, much like the Winspear Opera House in downtown Dallas. It is the highlight of a building full of state-of-the-art arts spaces. The final construction project of the 2014 Bond, the CVPA opened for students this month. In addition to the concert hall, the CVPA includes a 425-seat theater, classroom space, art and dance studios, instrument repair center, art gallery and a Steinway Spirio Model B Grand Piano in the lobby. The facility also houses a number of high school fine arts courses, including dance, AP music theory, piano, musical instrument repair, Art IV and IB visual arts.
"The opportunity to sing in the new performance hall was an overall honor and privilege to do," said Wesley A., an Arlington High School junior in the men's choir. "The hall is stunning and was a beautiful place to sing in. We were blessed enough to be selected to sing at TMEA, but to be the first ensemble to perform at the CVPA was an opportunity greater than anything else."

TMEA Concert
The honor of being the first to perform in the CVPA was well-deserved. The choir is one of just 12 ensembles – and one of two tenor/bass choirs – that were selected from hundreds of submissions across the state to perform for the TMEA's annual convention. Typically held in San Antonio and attended by over 10,000 music educators, the convention is being held virtually this year. Each invited performing high school ensemble gets to record a 25-minute concert that will be streamed during the convention. 
"We announced the invitation and got to work on rehearsals in September," Barlow said. "Our first rehearsals were held on the football field of our multipurpose facility. Students were socially distanced in lawn chairs and blankets for the first few weeks of rehearsals."
Getting ready for the 25-minute concert took months of hard work and dedication from all 26 members of the choir.
"I was excited to have an opportunity to sing since last year got cut short, and I was even more excited to be featured at the conference," said John E, a junior choir member. "The songs were difficult, and rehearsals were long, but eventually we got through it."
"Everyone played a significant role in making this happen for our choir," Wesley A. said. "If one person was not at practice one day it would throw the entire practice off balance. In the end we found the young men that showed commitment, ownership, loyalty, toughness and selflessness every single day."
The hard work paid off. Last Thursday, the choir got its first rehearsal in the new concert hall and then returned on Sunday to record the concert.
"Recording made it seem like a real choir experience and I couldn't think of a better way to end such a crazy year," John E. said. "I am so appreciative of everyone who has been a part of our choir's journey and I am so thankful for this wonderful opportunity. I can't wait to see our final performance online!"
The choir concert will stream for the TMEA annual convention on Feb. 11 at 7 p.m. to members of TMEA.