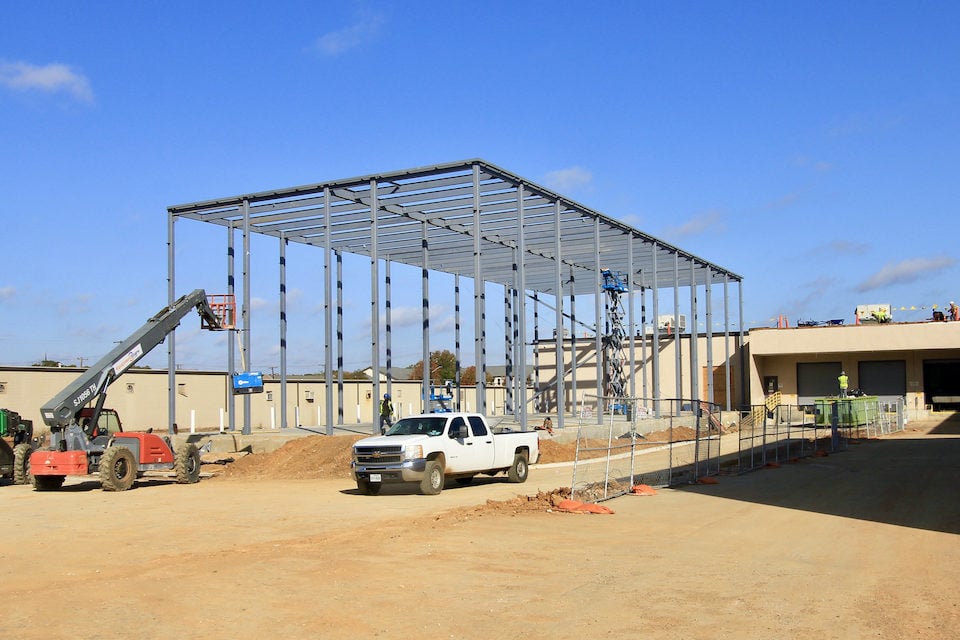 Feeding tens of thousands every day, Arlington ISD's food and nutrition services department has a momentous task that requires a team of dedicated employees and a host of complicated logistics. It also requires the right facilities, from warehouses and freezer space to offices and kitchens. Thanks to the 2019 Bond, the Arlington ISD's food and nutrition services' headquarters is getting a much-needed upgrade that will improve efficiencies and logistics, create better working environments and enhance food storage.
This is a major construction project with a complete renovation of the building and the construction of a new freezer addition. The food and nutrition services staff had to vacate the building last winter and take up temporary residence at another district building while construction is underway.
While moving out was inconvenient, the end result will make it worth it.
"We were happy to make the temporary move because the renovations and upgrades will make us more efficient in providing services to our students and families," said David Lewis, Arlington ISD's food and nutrition services director. "We are really going to benefit from this once it's complete."
The food and nutrition services building has been a busy construction site since the spring. The inside was gutted and has been fitted with new walls and a new layout. In the back, an addition is now underway to house a new freezer. The addition's steel frame was hung recently, and the concrete drive next to it will be poured next week.
Slated for completion in the spring of 2021, the new food and nutrition services headquarters will offer significant improvements, including:                                               
The new large, 7,400 square-foot freezer addition will replace four older, less efficient freezers.
The renovated building will include a new training/conference area large enough to fit 110 people, the number of managers and leads in the department. The training area will also open into the catering kitchen.
The renovated catering kitchen will be a dramatic improvement over the old, smaller kitchen, which was on two levels. Now on one level, chefs will no longer have to go up and down stairs to navigate the entire space.
The renovated building will include a parent engagement area where parents will be able to get information and register for meal benefits. Parents visit food and nutrition services daily, so this will improve their experience and ensure they get the information and benefits they need.
The renovated building will also improve on energy efficiency and upgrade security.
The design of the building leaves space for a future addition that would allow the department to combine its two central Arlington food warehouses into one location, improving efficiencies even more.
See construction photos of the food and nutrition services building and learn more about the 2019 Bond.