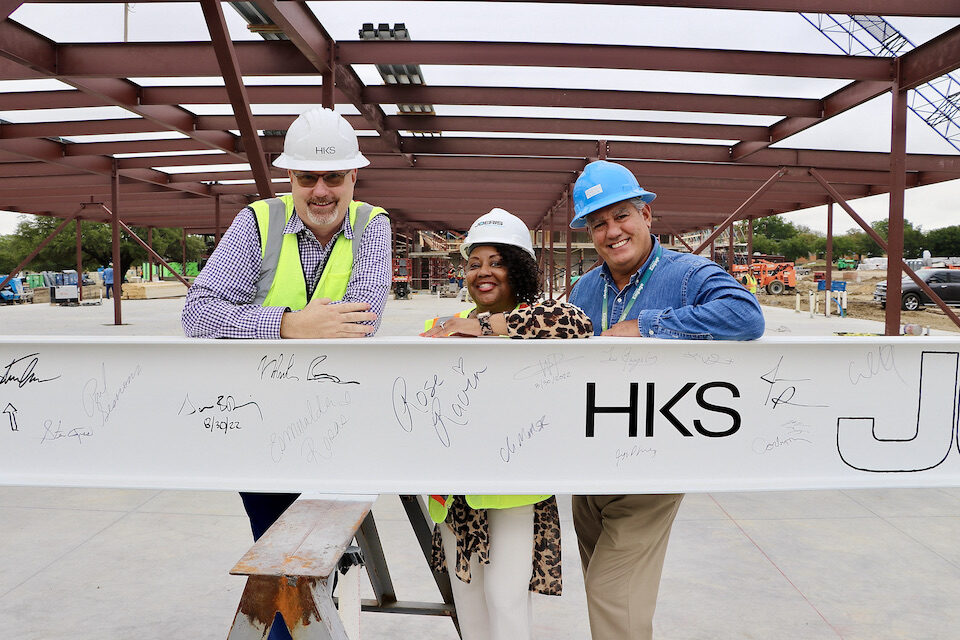 Berry Elementary
The future Berry Elementary School is officially topped out.
Tuesday, the last beam of the new structure was hung, a significant milestone in the construction of the new school.
To celebrate the topping out, Berry principal Rose Ravin joined others from the construction contractor, Joeris General Contractors, the architect, HKS, and the Arlington ISD's facility services department in a ceremony that included signing the final beam, watching the beam get installed and eating brisket tacos.
"I drove up to the topping out ceremony not really knowing what to expect," Ravin said. "Wow, was I blown away. The experience of just signing the last beam and witnessing the construction progress around me was exciting. I'm so looking forward to the day we create new experiences as our staff, students and families walk into our new Berry Elementary for the 2023-2024 school year."
See photos of the topping out and construction progress.
The excitement was contagious because the construction progress is exciting to see, even for an architect who has experienced lots of these ceremonies.
"This event is such an incredible reminder of the impact we make in our communities and students," said HKS architect O. Wayne Reynaud, a veteran of many Arlington ISD construction projects. "Every step we make matters. It is a privilege to be working with Arlington ISD and executing their mission every day."
The new Berry is under construction on the site where the old Berry, opened in 1955, once stood. The old building was demolished last year, and the new Berry is scheduled to open for the 2023-2024 school year.
COMING SOON
The future Berry is one of four school replacements funded by the 2019 Bond, an effort to modernize the district's schools and revitalize their neighborhoods. It's all about providing generations of students with the opportunities they need to succeed in the 21st century.
"We are excited about what this is going to bring to our community," Ravin said, "not just for our district but especially in our east Arlington area. We know this building will provide opportunities for our east Arlington students. We are excited because they will be a part of making new history, new memories, new learning, new designs and new creations."
The new building will indeed provide many opportunities for students because of its purposeful design. It was carefully planned by HKS with input from Berry teachers and staff, students and parents. The two-story school building with nearly 105,000 square-feet will feature five classrooms for each grade (pre-K-6), a media center, fine arts classrooms, STEM labs, makerspace, collaboration spaces, outdoor areas and more.
"It's for you," Arlington ISD Superintendent Dr. Marcelo Cavazos told fourth-grade Berry students at the groundbreaking ceremony in December. "It's for your future. We know that if you have the right spaces and the right environment and the right teachers, nothing can stop you."